Enova Sabbatical Series: Andrew Dyminskiy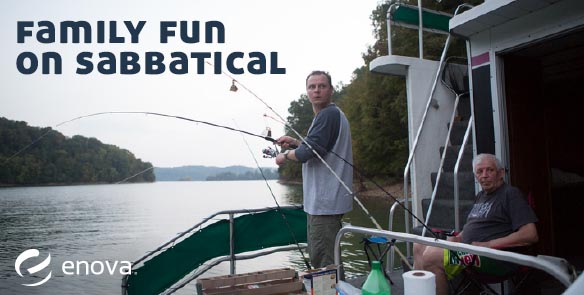 By: Andrew Dyminskiy, Senior IT Manager
For the next installment of our Enova Sabbatical series, we hear from Andrew Dyminskiy, Senior IT Manager Andrew has been working with Enova for almost ten years and spent his sabbatical spending time on his annual visit with his father.
For my sabbatical, I had the pleasure of spending a great amount of time with my dad, who was visiting from Ukraine. My dad and I try to meet at least once a year so we can share some of our favorite hobbies: fishing, camping and exploring new places.
In addition to our normal fishing trips, we also spent some time on a house-boat and completed some projects around the house. It was great to have another set of helping hands to get the work done!
We also visited Philadelphia and Wisconsin. In Philly, we spent two days sightseeing, riding horses and taking tours. We visited interesting places like the Betsy Ross museum, Bell Tower, Second Bank of United States and more.
Our trip up to Wisconsin was all about fishing. We didn't catch a lot, but that was not our main goal. The true prize was the chance to spend time in nature and outside of the busy city, and most importantly, with each other.