Enova Hosts Second Annual UIC Student Analytics Challenge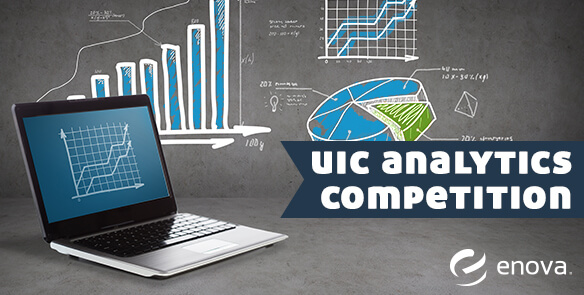 By: Vinod Cheriyan, Senior Data Scientist
On March 18, Enova sponsored and ran the second annual CRIM Student Analytics Challenge, hosted by UIC. The annual competition, held in conjunction with the CRIM Analytics Symposium, provides students with the opportunity to solve real-world problems using data. This year, 42 participants across 15 teams participated.
Similar to the Data Smackdowns Enova runs on a regular basis, Enova prepared a mock business problem to solve and an accompanying data set in advance. Starting at 4:30 p.m., students worked in teams to solve the mock business problem using analytics techniques. After the four-hour competition ended, volunteer scorers from Enova and an independent panel of judges determined the rankings. The winning teams were announced at the CRIM Analytics Symposium on March 31. Joe DeCosmo, our CAO, presented the certificates to the winners.
Analytics competitions like the CRIM Student Analytics Challenge not only help students gain "real-world" experience, they also help Enova connect with up-and-coming talent.
Thanks to John Hwang, Hannah Worall, Annantha Raghuraman, Michael Dalgleish and Sneha Kannan for helping to prepare the business problem and data set, and to Nan Xia and Zoe Zhang for volunteering at the event.