Training for the Table Tennis Tech Tournament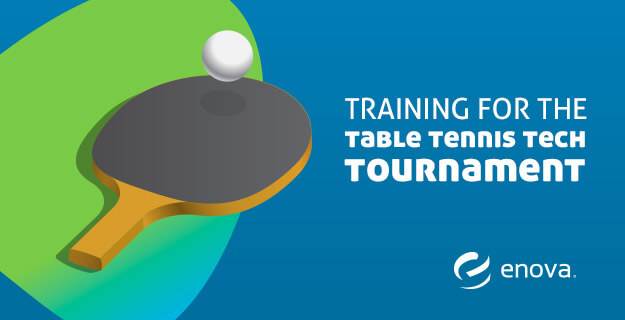 By: Bheemreddy Vennapureddy
In November, I represented Enova at the sixth annual Table Tennis Tech Tournament, T4Youth, in Chicago. Enova was one of over 60 tech companies from across Chicagoland playing in the tournament and locked in a heated competition for the championship title.
The goal of T4Youth is to unite Chicago tech professionals around a common passion for table tennis in order to raise money for Chicago Tech Academy and support future generations of technologists. Chicago Tech Academy (ChiTech) is a non-profit which seeks to increase the number of minority and low-income students pursuing science, technology, engineering and math (STEM) in college and careers. The tournament is a fun way that Enova gives back to the Chicago tech community and helps to foster the next generation of technology professionals.
My mutual love for table tennis and technology made entering the competition a no-brainer. This year, I decided to create a team from the top competitors in Enova's own annual ping-pong tournament. Recruiting talented and enthusiastic players made our regular practices —30 minutes a few times a week — fun and worthwhile. We're lucky at Enova to have a table at our disposal to practice for the tournament.
On tournament day, team Enova made it all the way to the round out of 16 teams. While we ultimately lost the championship, we were proud to represent Enova at such a fun and worthy event as T4Youth. I'm personally proud to work for a company that encourages giving back in unique and engaging ways, and I'm excited to get involved in more events like this.
Learn more about T4Youth: https://t4youth.org/