A Day in the Life of Joshua Silvain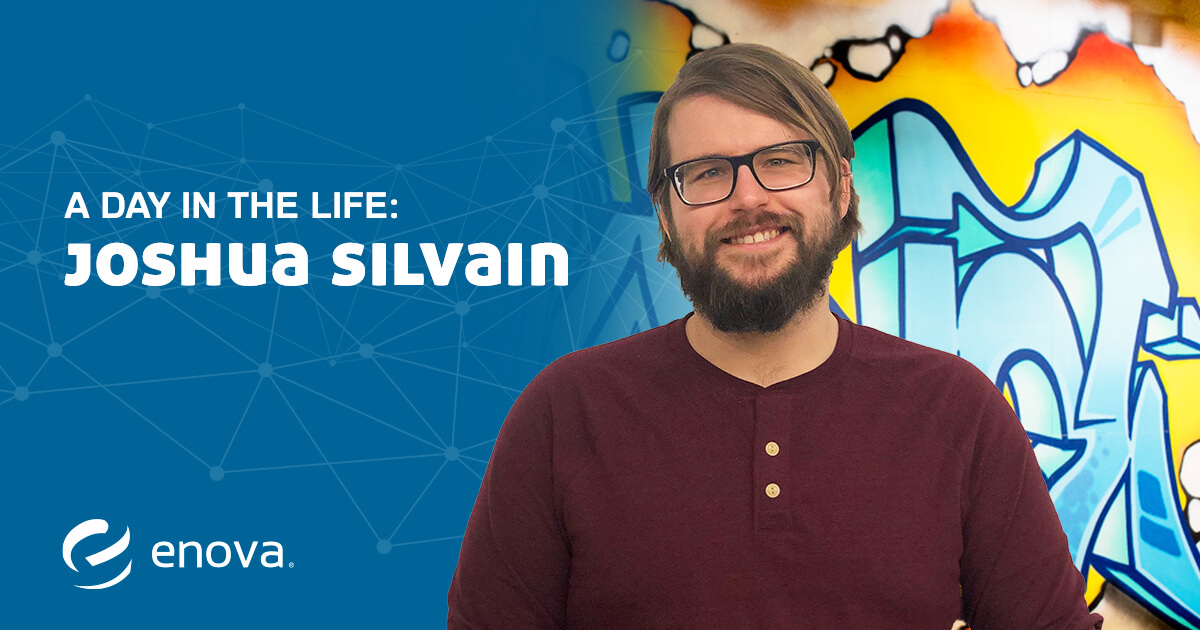 Name: Joshua Silvain
Q: What is your role?  
A: I started as a CashNetUSA Application Support Team Rep I and am now an Application Support Team Rep III. 
Q: How long have you been at Enova?  
A: I have been at Enova for over 2 and a half years. 
Q: What's the first thing you do in the morning when you get to the office? 
A: I make sure to arrive 10 – 15 minutes early or so I can take the time to put away my backpack put away, hang up my coat and put my lunch in the fridge. I don't want to feel rushed or frazzled before I even get to my desk! Once I clock in and get to my desk I make sure to get everything I'll need for the day open and ready. This includes my email, the wiki (known as Enova Central) and a couple other resources. 
Q: What does a typical day look like? 
A: It's hard to call any one day typical. Each day can bring its own variance based on department needs and new projects. Once you have your system set up as an Inbound Representative you go into "ready" status, then the calls start coming in. Most days cruise by because you're just focused on each call and giving the customer the best support possible. Before I know it, it's time for my break, then lunch, then break again, and then it's time to go home! Oftentimes, I have the opportunity to help with special projects or reports. 
Q: What does a typical call with a customer look like? 
A: A typical call with a customer is broken down essentially into three basic parts. First, I want to find out why the customer is calling. For example, do they need a new loan, or currently have a loan? Secondly, I want to find an answer to their question — what can I offer or how can I help them reach their goals. The third step is to offer the best support possible and to make sure the customer question is resolved. 
Q: How many customers do you estimate you help in a day?
A: On average, I would say I help 70 customers each day. 
Q: How do you feel about helping customers get the funds they need? 
A: Helping a customer get funds is the most rewarding part of being on the Application Support Team.  Sometimes you have customers that weren't sure they'd be able to get the funds they needed and not only were you able to provide them the funds, but the process was easy and smooth. 
Q: Does your work vary day to day? 
A: In my time here at Enova and with the CashNetUSA brand I've learned that every day is a little different. While that variance can be simply the difference between each customer or situation from call to call, as a Rep III I have been trained to support various channels. So my work can definitely vary beyond just different customer situations. I may help both the Inbound and Outbound Customer Service Teams or take on a special request. This change is good because it gives me an opportunity to grow and learn about different roles and teams at Enova. 
Q: Please discuss your growth at Enova. Tell us how Enova has supported you in growing your career.
A: I have experienced a lot of growth in my time here. Frankly, when I started I was just looking for a job and trying to pay my bills. The support I saw from my managers to really focus me on not just to meeting goals, but exceeding them transformed how I thought about the job. Helping me strive for excellence, made this a career not just a job. Once I started achieving those goals and becoming a subject matter expert in my role I wanted to start helping others do the same. My managers were behind me every step of the way. I was able to take classes offered at Enova not only focused on achieving goals; they also taught me about different personality types to help me better receive and give coaching. 
Q: Why Enova? What do you think makes Enova different? What do you like about it and why do you stay? 
A: It's the people and especially the managers. They gave me that motivation when I didn't have it myself and help keep me motivated now. The coaching is always done with a reason in mind and explains things better. You're always given the reason or the effect doing something wrong can have and why the right way or current process is important.
Q: Anything else you want to share? 
A: If you're just starting out at Enova, I know it can be a lot of information all at one time. But you'll have support every step of the way. Ask questions! if you have a question, I promise someone else in that class or a few people have had the same question.  When you hit the floor, your managers have your back and are really there to help you progress and learn. While you'll be given goals and metrics to hit, Enova really does a great job of focusing on your progress and growth.
Learn more about Enova and join our team.