Learning to Lead at Enova Manager Bootcamp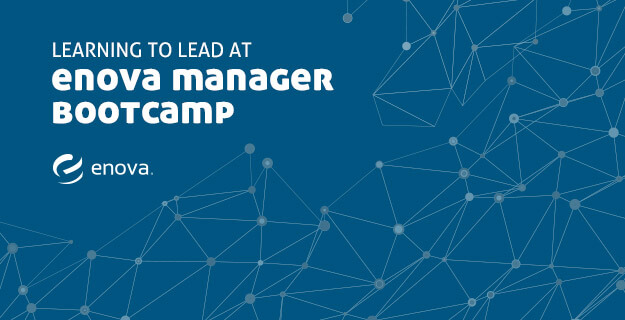 by: Barbara Davidson, Senior Copywriter
As I round out my sixth year at Enova, I think it's safe to say that Enova is a company that prioritizes professional growth. My journey at Enova began in digital marketing, and after a few years of new challenges and many opportunities to learn, I transferred to our internal creative agency known as Enova Studios. In three years' time, I've gone from a role where I was writing every day, building my expertise in content, to managing my own sub-team, driving strategy decisions and collaborating with key stakeholders to work toward a common goal. 
Part of that professional progression included a comprehensive course in leadership, known here as Manager Bootcamp. Enova knows that a great manager isn't made overnight — it takes guidance, practice and support from others — but they also understand that it's valuable to introduce new managers to those key soft skills you need to mentor others.
Over the course of two days, new Enova leaders gathered to learn about building trust, adapting leadership styles, coaching and problem solving with a managerial mentality. We were able to step away from the day-to-day tasks and really explore the issues shared amongst this group of new managers. It was comforting to know we weren't alone in this learning process and helpful to hear how others worked through the challenges of being a new manager.
Role-playing activities allowed us to get familiar with the techniques we learned. Goal-setting exercises helped us frame our important next steps within the context of our everyday responsibilities. Lastly, we established accountability groups so that we could stay committed to those goals and continue to support our colleagues as we navigate our new leadership roles. As part of a shared service team, I get the privilege of working with some of the brightest minds across the organization. Predictably, that collaboration is centered on the day-to-day workload rather than our personal career development. I feel one of the best benefits of our Manager Bootcamp accountability group is the opportunity to explore these managerial challenges from a fresh perspective. 
Manager Bootcamp is one of many great examples of Enova investing in its employees' professional trajectory. Through this experience, I gained valuable tools to help me lead, practice and coaching for how to use those tools, and a support group to ensure I continue to use them to the benefit of myself as well as my team.