Meet Alex Chan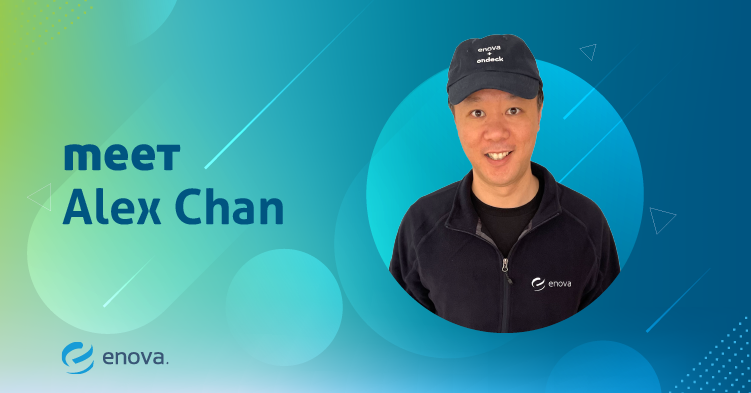 Name: Alex Chan
Current Title: Technology Manager II
Current Team: Software Engineering – SMB Decisions
Start Date (Month & Year): April 2020
Why did you decide to join this up-and-coming team? 
I have worked at big banks for the past 15 years before joining Enova's OnDeck brand in the Small-Medium Business (SMB) Division. There were three key things that I was looking for in the role. First, a can-do culture where people cared more about getting things done than getting into politics and bureaucracy. Second was the opportunity to get hands-on with the technology while leading a team of software engineers. Third was a company that had the potential for growth where I could make a meaningful contribution to its future, not be just a cog in the wheel.
The OnDeck team at Enova not only satisfied all of these criteria, but its mission makes a real difference to the underserved needs of small businesses — and we get to have fun while doing it!
What is the most impactful project you have worked on?
One of the most satisfying aspects of my work is knowing that it has a real, tangible impact on our business and our customers. If I had to choose one project that was most impactful (so far), it would be implementing the new credit policies to help small businesses as the economy began to recover from the pandemic.
It was a genuine team effort across many parts of the organization. For example, our team worked closely with the Data Analytics and Strategy teams to implement policy and rule changes. The UX (User Experience), Marketing, Legal and Credit teams also worked on other aspects of the project to make it an overall success. It was truly encouraging to see that we were able to extend credit to a larger population of new customers while existing customers were able to renew their loans much earlier than before. This is critical for small business owners looking to grow their businesses as the economy opens up.
What is your favorite perk and why?
Firstly, I'd have to say that the delicious breakfast, the stocked pantry, the swag and corporate discounts are all great! Then there is the paid sabbatical leave after my fourth anniversary that I am so looking forward to! But my favorite perk would probably be the Summer Hours program. As long as our work for the week is done, we can "disconnect" at 2 p.m. on Fridays during the summer months. It allows me to spend extra time with my family, take advantage of the sunshine and get a head start on the weekend! This is the first time I've come across such a perk, so I think it's pretty unique!
How do you contribute to Enova's mission (Helping hardworking people get access to fast, trustworthy credit)?
It is very rewarding to see how the SMB Underwriting Decisions Engineering team moves the needle with respect to Enova's mission. We are responsible for implementing credit models and decisions that make loans more accessible to business owners and optimizing the efficiency of our systems so that we create a better and faster experience for our customers. Being a very data-centric organization, we can measure the impact that our changes are making and continue making improvements as we go.
What is different about the people at Enova?
One of the first things that struck me when I joined Enova was how genuine people were in helping one another. I joined right at the start of the pandemic in early 2020, and everyone was working remotely. Despite that, I really felt a sense of belonging and collaboration even though I'd never met anyone in person! Also, we have a lot of smart people here at Enova, but I've never once sensed any arrogance or obnoxiousness. People discuss and debate various ideas in a very open manner based on the merits of the idea without taking it personally or getting defensive. We all understand that the best answer can come from anywhere. I believe these examples highlight Enova's values of "Top Talent and Teamwork" and "Best Answer Wins."
What do you enjoy about the work you do at Enova?
There are a number of things that keep me motivated each morning as I get ready for work. As an engineer, the fact that I can help guide and build out our next-generation technology platform ranks high on the list. As a manager, I enjoy leading and mentoring a team of talented engineers. Last but not least, I believe one of the most motivating factors in any vocation is knowing that what you do matters. Seeing the work we deliver making tangible differences to our business and customers brings a lot of satisfaction.
How do you spend your time outside of work?
I enjoy eating, whether dining out at local restaurants or cooking at home. During the warmer seasons, I spend quite a bit of time on the grill. During the pandemic I learned to bake artisan bread and have cultured my own sourdough starter. Most of all, I enjoy spending time with my family, whether playing board games or watching family movies…. and did I mention eating :-)?