Return to Office Series: South Jordan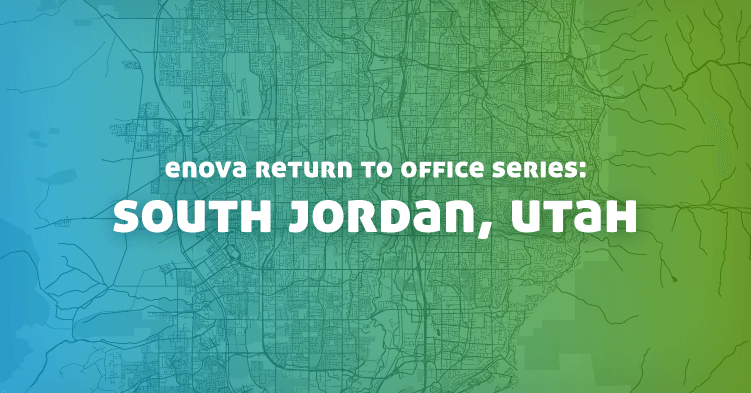 By Breann Bush
My journey with Enova International is everything I could have hoped for when searching for a new opportunity. 
I began working for Enova as a remote employee in 2022 and was there for three months before being given the option to join a committee to help organize and plan exciting events while we began transitioning to a hybrid work schedule for all corporate team members. Joining the committee was a rewarding and informative experience to gain additional insight into the company. Enova has an inclusive and diverse culture and I was happy to see from the committee how everyone is able to collaborate, work together and incorporate Enova's values into our events. Our newly formed Credit Ops Team is also located in South Jordan and is working on building a culture unique to that office. 
Upon returning to the office for our first week, we had an event planned each day that would allow everyone a block of time during the day to have some fun and get to know the peers they had previously met virtually. My favorite event was the Happy Hour event that the Utah office hosted off site toward the end of the week after having some time to get to know each other earlier in the week.
These events have made the transition from a remote to a hybrid environment a smooth and exciting experience. As we continue on the hybrid schedule, there are committees that will also continue to plan various monthly events! I think these events will be a great way to connect with new team members and build community with my current team even more.
While I was interviewing with Enova, I distinctly remember two things that increased my interest. The first, was the tenure of the team I was interviewing with. One of my interviewers had been with the company for 15 years and another interviewer for six years. The second interesting thing was that Enova had lots of opportunities to get to know each other. Enova even had an event that took employees to a Chicago Cubs game. 
These two things stuck with me for many reasons, but the first is that I felt I found a company I can truly grow with and learn from while also utilizing my own skillset; the second reason is that I was excited to hear how well the company invests in events for employees to show that they are valued consistently throughout the year. Plus, many of these events drive inclusion and cultural awareness because they are hosted by Enova's affinity groups. 
I am happy to be a part of this wonderful company and look forward to the events to come. I think the experiences that my peers and I will gain from working together in the office will help me grow in my career!