Running into Success with Jose Vega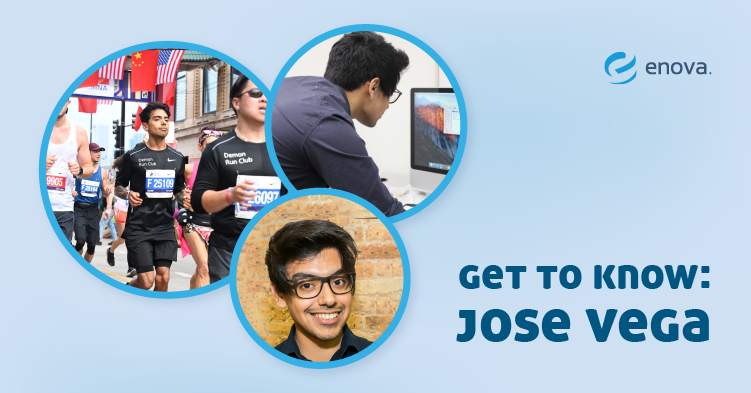 We went on a jog with Senior Copywriter Jose Vega to find out why he chose Enova and how he gives back in his free time.
1. What is your favorite kitchen snack?
Definitely the sugar snap peas. If you find that we're out of them, I apologize in advance.
2. Why did you decide to join Enova Studios?
At first, I was drawn to Enova Studios because of the opportunity to write for our wide portfolio of brands. What truly sold me on joining the team was when I met the incredibly talented people that I'd get to collaborate with at work. I was impressed from Day One.
3. What do you enjoy about the work you do at Enova?
I simply enjoy the fact that it's my job to think differently. As a senior copywriter, I routinely need to come up with compelling ideas that are able to achieve measurable business results. I'm not only responsible for producing creative work, I also get to see how it directly impacts Enova as a whole. It inspires me to put my best foot forward every single day.
4. What's your greatest accomplishment outside of work?
In 2021, I successfully ran the Chicago Marathon for the first time. I was able to complete it in under four hours (My official time was 3:49:20). It was such an unforgettable experience that I immediately signed up to run in the 2022 Chicago Marathon, this time for Ronald McDonald House Charities (Team RMHC).
With the lasting impact of the pandemic, I chose to join Team RMHC because of the admirable work they do to help millions of families with sick children. Low-income households are struggling the most right now. If I can help hardworking parents get much-needed resources to care for their seriously ill child — it's worth more than 26.2 miles in my book.
5. What is different about the people at Enova?
From my experience, the people at Enova genuinely care. We're all rooting for each other, both inside and outside of work. Case in point: when my manager found out that I was running for Team RMHC at the marathon this year, she immediately went out of her way to donate to the cause. It really meant a lot to me. I think it shows how we don't just see ourselves as coworkers. We're a true community that values each person on a deeper level. You can't find that everywhere.
6. Fun fact most people wouldn't guess about you?
I often come up with many of my ideas for the work that I do at Enova during my 6:00 a.m. run. There's something about running seven miles that brings me so much clarity and creativity, especially in the quiet solitude of the early morning. I owe a lot of my success to it.