Enova Helps Kids Go Back to School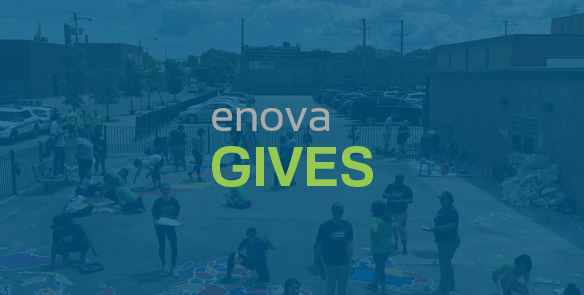 by: Chris Means, Senior Software Engineer
As a new member of the Enova team, I was excited to learn about Enova Gives — Enova's charitable program — during my onboarding process. Enova Gives provides many opportunities for team members to maximize their own charitable contributions and volunteer, either on their own or with team members — but I was most excited to get involved with our annual Cradles to Crayons drive. This year, Enova collected much-needed items for local children: backpacks and school supplies. I am an active supporter of nonprofit organizations serving kids and families, so when the call went out asking for team captains, I jumped at the chance to help out.
To encourage a bit of friendly competition, Enova created 16 teams. I served as a team captain for Team 12. The Enova Gives leadership team provided each team with our own Google spreadsheet template already structured, formatted and populated with a list of the items we would need to get to reach our goal. Armed with that and a list of those on my team, it was time to start a minor email campaign.
A suggestion from another team captain was to make the process of purchasing and delivery as easy as possible, so I set-up an online wishlist through a site that proved to be the cheapest supplier for the items we needed. This let me select the items and quantities required, and then I could share the public wishlist URL with my team. I still needed to update the spreadsheet to track who was committing to purchasing what, and then check-off the items as they were actually dropped off, but the wishlist made the process that much simpler for everyone involved.
Being my first experience with managing/encouraging a group of people to make donations (either monetary or actual items), I was not sure if/how quickly they would respond to the call, nor whether other inducements or incentives would be called for. What pleased and surprised me the most was that individuals on my core team really rose to the challenge and enabled us to meet the initial goal of 10 backpacks within the first of two weeks.  Given that momentum, and in the hopes that others would rise to the occasion, I increased our goal to 20 backpacks. I posted status updates every few days calling out key donations and updated the spreadsheet summarizing what still remained. With just a few days remaining, we met our stretch goal!
The final stage of the school supplies drive, a week later, was for each team as a whole to get together and actually put all of the backpacks, notebooks, pens, etc. together so that Cradles to Crayons could distribute the complete backpacks to children in need. The Cradles to Crayons staff and volunteers laid out all of the items on tables like an assembly line. Some of us packed backpacks, while others wrote well-wish notes for the children who would later receive the backpacks. 
Overall, it was a really fun experience, and team members enjoyed having fun while giving back. Plus, since I was a new team member, serving as a team captain helped me get to know people better while expanding my skill-set. 
My thanks go out to my own team, who really rallied and provided the much needed initial momentum, to the Enova Gives leadership team for encouraging and supporting a great charity event, and to Enova for making it possible. As a whole, our company donated 3,501 items to Cradles to Crayons and packed 2,500 backpacks for the new school year.