Introducing Claudine Kourkoumelis, Chief People Officer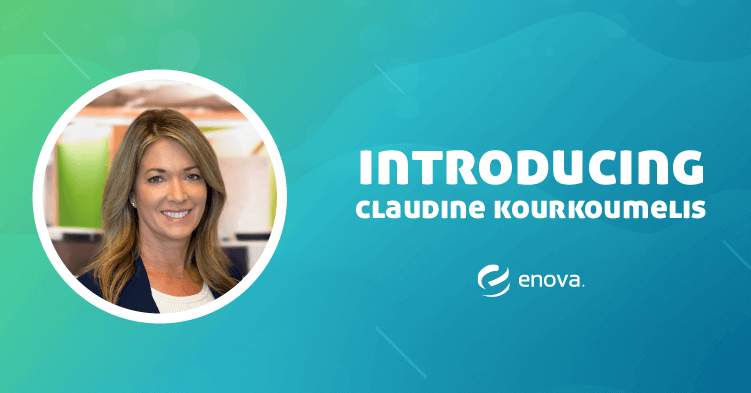 In July Enova welcomed Claudine Kourkoumelis, our new Chief People Officer. We sat down with her to learn more about her background, leadership style, and experience at Enova so far.
Q: Welcome, Claudine! We're excited to have you here! Why did you choose Enova?
As I was looking for my next role, and ultimately, starting a new chapter in my life, I focused on opportunities where I felt personally and professionally aligned with the company's values and culture. I also sought out roles where I believed I could add value, make an impact, and learn. Enova's culture, where DEI is highly valued, and the commitment to making Enova an awesome place to work is front and center, is a perfect fit for me. It became clear that Enova recognizes people who are the driving force behind its success. In addition, Enova's community involvement and proven track record of success made it an all-around awesome place for me to work.
Q: What is your favorite part of Enova so far?
Definitely, the people at Enova are my favorite, along with all the celebrations and recognition events that include great food.
Q: What do you see as the most important part of your role as Chief People Officer?
Being a champion to drive a diverse, engaged, and high-performance culture as well as successfully supporting our new hybrid remote work model.
Q: What qualities, habits, and practices enable you to be successful as a leader?
One important habit is maintaining a sense of curiosity and a growth mindset for continuous learning to keep up with change. Critical qualities that have been effective in my career include integrity, accountability, resilience, empathy, inclusion, influence and positivity. Building relationships and trust has been key to my success. In many situations, leadership is about inspiring and influencing others to do their best and achieve the success that might sometimes seem impossible.
Q: As a People Team leader, how do you help your own team grow?
Support transparency and clear goals for the team. Recognize the teams' accomplishments and wins. Empower decision-making and encourage development through new challenges and new experiences. Create a strong sense of inclusion, teamwork and commitment.
Q: Last question: What's something surprising people would be interested to know about you?
Early in my career, I explored shifting from an HR-focused career into technology, which my husband, who is in technology, influenced. I took several technology courses, and then during my course in C++ programming, it was clear that technology was not my passion. I'm happy to have an appreciation for technology and a career focused on people, which is my true passion.