Get to Know Enova's 2022 Summer Interns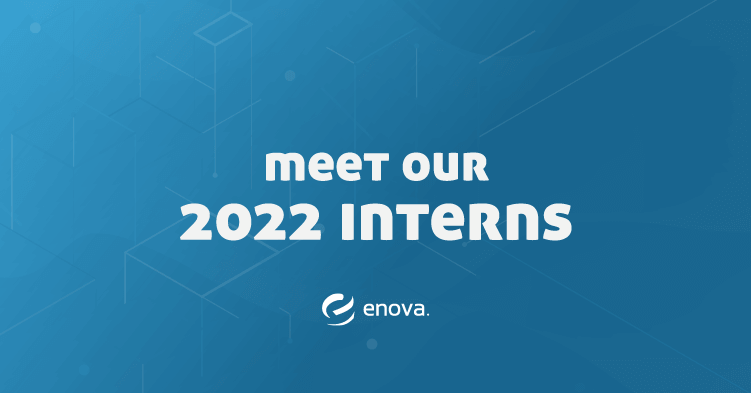 We're always excited to have summer interns, and this year was no exception! Our internship programs are perfect for university students looking for valuable real-world experience. Recently, we interviewed four of our summer Interns, all of whom worked in our Chicago office on their experiences at Enova.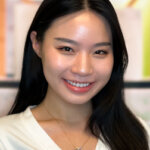 Annie (Yixin) Zhang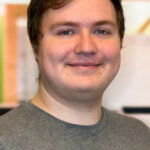 Bryant Schultz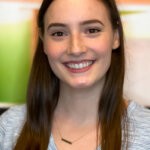 Maddie Smith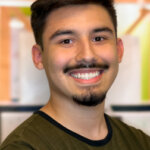 Saul Avila
Why did you initially want to join Enova for the summer?
Annie (Yixin) Zhang: Technology-driven finance is a field I have always wanted to try. After researching this market, I found that Enova is an excellent choice with its friendly working environment and professional businesses.
Bryant Schultz: What really stood out when I was applying for internships was how much everyone I met seemed to enjoy their jobs and time at Enova. While conducting my intern interviews, I met with several SRE team members who not only put me through a thorough interview but also allowed me to ask them tons of questions. They all answered my questions about the company, the internship and more, and they seemed very passionate about what they do at Enova. When I met with my future manager, Mynor, it became clear that he already had a plan for the intern project and the SRE intern program overall. It made me feel very confident that becoming an intern at Enova would be the right choice for me to grow professionally.
Maddie Smith: I was thrilled to join Enova because of its commitment to advanced analytics, dedication to serving a hard-working yet underserved population, and welcoming culture. After meeting several team members throughout the interview process, I knew Enova would be a great place to expand my data-science knowledge and help me reach my professional development goals.
Saul Avila: The main thing that made me want to join Enova is the company's unofficial motto, "Work Someplace Awesome." It excited me because it showed me that Enova pays a lot of attention to its employees and work culture. It also made me feel less intimidated and a little safer knowing the company takes its employees' experiences at the company into consideration and actively works to create a culture that employees are proud of.
What was your favorite part of the internship?
Annie: My favorite part of this internship was talking to people and building relationships with them. The people at Enova are all amiable and willing to share insights with me. I have received a lot of valuable ideas for my internship and my future career development.
Bryant: My favorite part of the internship was the SRE team's daily breakfast club meetings. They were held every morning and provided a gathering place for anyone on the team to join and work together, whether remote or in-office. It was a really cool opportunity as it allowed me to shadow people working through tickets and get to know all the team members. It also gave me the opportunity to work on tickets and have team members help me through them.
Maddie: I enjoyed all of the company and DEI events where I could learn more about Enova's initiatives and spend time getting to know my coworkers better. I also enjoyed the final presentation because it allowed me to share my work with colleagues from other offices. 
Saul: My favorite part of the internship was definitely meeting lots of new people. I've become friends with everyone on my team and the other software engineering interns. I've also made friends with interns from other departments! It's never a dull day in the office when I get to do something I love alonside great people.
How did your manager/captain support you through the internship??
Annie: My manager at Enova is the best manager I have ever met. He constantly checked in and ensured I enjoyed my time at Enova. He taught me many valuable things and cheered on my success with my internship and career. Additionally, he is very patient and caring, and was always there to answer any questions I had. I feel so lucky that I met such a great manager. He is not only a professional advisor for my career but also a mentor and friend who I know I can still turn to for guidance after my internship is over. 
Bryant: My manager, Mynor, made sure the other intern and I were properly set up for our project and gave us a detailed overview of what we needed to accomplish. At the same time, he gave us the freedom to improve upon the project and accomplish it in a way that we thought worked best. He also ensured that we always had opportunities to learn by setting up regular training sessions, shadowing sessions, and meetings with other members of the team.
Maddie: The hybrid work schedule made for a fantastic internship experience. My manager and team scheduled most of our meetings while we were in the office, so we could share our progress and work through problems in person. My manager and intern buddy were quick to connect me with people from other teams so that I could learn more about Enova. They also were always available to help me with the technical aspects of my project or to make sure I was getting the most out of my internship experience.
Saul: My captain was super helpful throughout this experience. First of all, she was super easy to work with. She always found time to answer any questions I had and found resources to help me with my work. She was very understanding and never made me feel bad for making mistakes. She met with me consistently simply to see how I was doing, and it really helped ease any of my nerves and worries.
What are your big takeaways from your summer with Enova?
Annie: First, the people surrounding you are your most valuable career development resources. Next, the most important part of problem-solving is defining the core problems influencing business decisions. Last, always be open-minded and look at the big picture while keeping your initial goal in mind before digging into questions. 
Bryant: My biggest takeaway from this summer was how vastly different corporate work is from school. Seeing that your work has a more significant impact than just turning in something for a grade is extremely satisfying. Also, everyone had a thirst for learning new things and passing along the information to the rest of the team members. At the same time, they had fun doing it. It made me look forward to coming to work every day. The culture and people at Enova definitely made the summer feel like it went by way too quickly.
Maddie: In addition to the new technical skills, I gained this summer, building relationships with my coworkers and operating as an owner were key to making the most out of my internship. I learned far more about Enova and the analytics industry by connecting with people 1-on-1. Also, hearing the unique perspectives gave me new ideas for my project and future career. In addition, putting Enova's core value, "Operate as an Owner," into practice pushed me to think past my deliverables and how my project could create value and support Enova's larger goals. The encouragement from my team as I sought ways to increase the impact of my project gave me the confidence to take the initiative and do work that I am proud of going forward.
Saul: My biggest takeaway from this summer is a strong understanding of the corporate culture and workflow. It was my first internship with a company like Enova, and it really helped me understand how teams operate and work together to complete projects.
What is one piece of advice you would share with future interns?
Annie: Don't hesitate to talk to people and ask lots of questions. Learning from the people around you will allow you to gain more than you can imagine.
Bryant: Don't be afraid to ask questions, and don't hesitate to reach out to people on your team. The best thing you can do during your internship is to try and absorb as much information as possible. I found everyone to be more than happy to talk about their projects, how they solved an issue, etc. But you have to put yourself out there and be open to learning from your peers. Even if you know how to do something, there is always someone on the team willing to share best practices or offer a different way to do it.
Maddie: My one piece of advice for future interns is to seek feedback early and often. Everyone at Enova is happy to help;their expertise is invaluable to your project and professional growth. Often, if I was feeling stuck, all it took was a fifteen-minute chat with a team member  to help me clarify an issue or find a more efficient way to move forward.
Saul: Don't be scared to put yourself out there and meet new people. I recommend trying to build friendships and genuine connections with people instead of just approaching everyone as a work-centered relationship. It's a lot easier to work on a team of friends, and having friends at work can help avoid feelings of loneliness or boredom in the office. Something as small as an occasional lunch can lead to great relationships and friendships.