Behind the Scenes: ChiWitCon 2022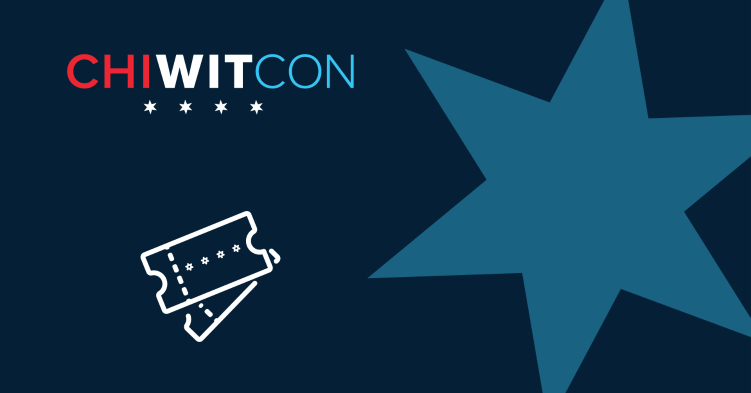 By Irina Gavrilova
After two years of taking place virtually, Enova's signature Chicago Women in Technology Conference (better known as CHIWITCON) returned in person this September. The theme was Reconnect: Showing Up and Leading in the Hybrid World. An inspiring gathering of Chicago's women technologists and allies, the conference brought together 80+ attendees to reflect on the trying years of the pandemic and set an action plan for the post-pandemic chapters ahead. 
Amidst the uncertainty of the transition back to the office, Enova's volunteer team was tasked with putting the conference together and spent a lot of time during the initial meetings pondering the best format, agenda, and content for the event's return to in-person. After a rich exchange of ideas between CHIWITCON veterans and recent hires, we settled on making this year's event small, intimate, action-oriented, and distilled to the parts that make this conference unique. With these focus points as our inspiration, the agenda emerged: we decided to open with the all-time audience favorite, a speaker panel organized by our long-time partners at ARA. We decided to follow up the panel with a hands-on workshop led by Enova's people team member, Kat Knight. The idea for the workshop was born out of a desire to give space for attendees to create something tangible together—a space to provide them with a sense of agency, a set of concrete goals crafted together with a community that would be there to help achieve them. 
Knowing we would be asking attendees to dig deep into some heavy subjects, we spent a few creative brainstorming sessions looking for ways to add some fun, lightness, and play to our afternoon together. (Sidebar, those creative brainstorming sessions were my favorite. Having the space to get together and watch people across departments and seniority levels, from engineers to HR managers to lawyers, come up with brilliant ideas was one of the most fulfilling experiences I've had throughout the planning process. The fact that we were able to do this during our working hours is another reason why Enova is an extraordinary place to work). During one of those sessions, the idea for trivia emerged when one of our volunteers, Lexi Ballard, shared she is a trivia host in her spare time. A few conversations later, we settled on three themed rounds: famous women in tech, facts about ARA, and good news & random facts. As my brain searched frantically for a good trivia prize, Lexi was one step ahead of me: "What if we offered them a networking dinner as a prize?" Jackpot: what better prize than an opportunity to continue the conversation with your new CHIWITCON network? We decided we'd have our guests transition to a beautiful rooftop for a celebratory toast to close our agenda and wrap up our day after some friendly competition. 
After nine months of meticulous planning, organizing, and creating, watching our efforts come together on the day of the event was immensely fulfilling. The room buzzed with excitement and energy as attendees roamed, getting to know each other, playing the conference bingo, coloring CHIWITCON-themed coloring sheets, and visiting sponsor booths. A record 11 sponsors supported the event this year: each sent a handful of their employees to learn at the event and to showcase their own DEI initiatives, inviting fellow attendees to learn about their companies. 
As I sat on the train home after the happy hour, I found myself reflecting on how leading CHIWITCON was an incredibly powerful and effective way for me to develop a sense of community at Enova. Starting my job here in the thick of the pandemic was quite lonely, but thanks to the months spent working with the volunteer team, I had a chance to get to know people at the company with whom I otherwise would've never crossed paths. My experience is one of many examples that serve as a testament to CHIWITCON's power to inspire meaningful discourse, create a sense of belonging, and forge lasting bonds. Being a woman in tech can be a lonely experience. Thus, I believe platforms like CHIWITCON, which exist to celebrate and grow the community of women in tech, are crucial for the future of any industry.