Introducing B.L.A.C.K. @ Enova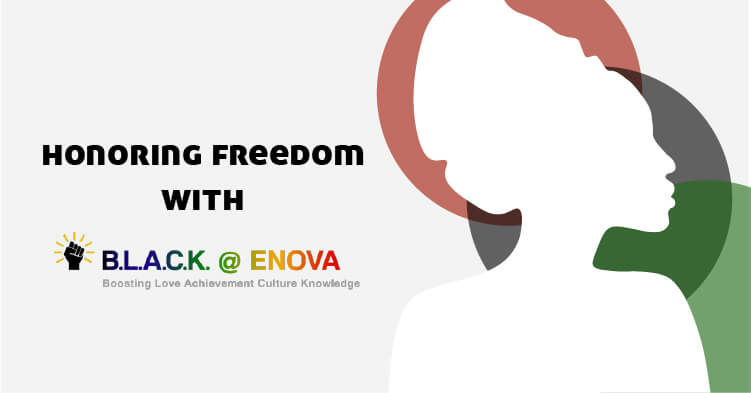 by Jasmine Kent, Senior Account Manager II
Your name, title, and how long you've been at Enova?
My name is Jasmine Kent. I'm a Senior Account Manager II and have been with Enova for three years.
Why did you want to start B.L.A.C.K. @ Enova and why do you think it's important?
When I first started at Enova, I looked to get involved in any way that I could. I'm a very outgoing person but was a little intimidated to randomly start conversations. I joined the Women's Networking Group (now known as Women @ Enova) and quickly began forming bonds with other women while putting my events background to good use. Through that experience, I had access to leadership, gained exposure and learned a great deal about the possibilities at Enova. It was beautiful, empowering and valuable to gather with strong females, but at the same time, I realized I wanted to see an Enova with more team members who look like me. This is when the desire for change began brewing. I met with the Head of Talent Development, Sabrina, a few times and we discussed the idea of affinity groups. Of course, if I started a new group, I wanted to do it well. I was challenged by whether I had the time to dedicate and also how this group would be received. 
At the same time, Joslyn Matt had similar thinking. She approached me to discuss affinity groups and what seems like days later we founded B.L.A.C.K. @ Enova together. True diversity in the workplace is extremely important to me. To have diversity of thought, we need people from all sorts of backgrounds contributing. I don't want to be seen as an "other". I want to look around and see people that look like me in leadership. I want individuals that look like me to want to apply to Enova because their differences are celebrated and there is a community here to support them. Given the current climate, it's especially important to have a community that understands being black in America.
What does "belonging" mean to you?
We all have different life experiences and backgrounds that make up who we are. Whether good or bad, these experiences shape how we see ourselves and how others perceive us. Belonging to me means to be accepted. No matter where I come from, how I look, speak, act, it's welcomed. I have felt that I did not belong to specific groups and that left me feeling misunderstood and rejected, often for things I have no control over. This made me question who I was. I believe we have a natural, human desire to belong. To be in community and feel connected on a deeper level with like-minded individuals makes you feel a little less lonely in this big old world. I have met so many people in Chicago that moved here for work or for better opportunities. Their families live far away. To find a group that makes you feel like home, like your chosen family is a beautiful thing. You are free to be yourself, you have a new lease on life when you have found your tribe.
What energizes you at work?
I work in client service. When the client is happy, I am happy. I get energized when we are all heads down overcoming problems or surpassing goals.  I love being a part of a start-up because we are scrappy. We have a lot more on the line and small wins are big to us. I am energized by having a voice at the table when big decisions are being made. Like many of us, I wrestle with imposter syndrome. I thrive on making things happen and the positive reinforcement when they go well. This leads me to believe I'm doing a good job and I'm exactly where I need to be.
What is your favorite part about diversity at Enova?
The emphasis that Enova puts on diversity is exceptional. To have this item as one of our main pillars, shows me Enova's desire to ensure everyone feels seen, heard, welcomed and appreciated. Enova celebrates diversity from every angle and it goes well beyond race. The fact that I'm able to be a part of many different groups, that all speak to a little bit of who I am is what I love the most. I'm a black woman who is also a parent and an ally. There's 6 different groups I can be a part of, each with their own unique voice. Through diversity at Enova, I've learned so much about different cultures. The different holidays that are celebrated, incredible food, beautiful art that is created and the uniqueness of each individual within the group. I've never worked at a place where individuals from around the world had their visas sponsored. This might seem very commonplace in Chicago, but it's a very new experience for me. Learning about that process, hearing people share their stories of coming out, seeing a group perform their cultural dance, these are just a few of the experiences I've had the pleasure of being a part of. All of this has shaped how I work with others and understand them on a deeper level.
Who is the person that motivates you the most at Enova and why?
My experience with Enova Decisions has been quite unique. In 3+ years here, we've seen a lot of change. The one constant in all of this has been Joe DeCosmo (CAO/CTO). While his role and focus have expanded, Joe has truly been a supporter of me from the beginning. Having support is everything to me. I did not come in with a technical background or a Master's degree, but he reminds me to lean on the skills that cannot be taught. When I'm feeling overwhelmed with work or just need to blow off steam about being a first-time mother, Joe's door has always been open. He listens and tells me things that make me feel better without sugar-coating them, which I appreciate. Joe is direct, honest and challenges me. Each time I leave a discussion with him, I learn a little more about myself or see the situation from a different vantage. He has always supported me in my activities, especially with Diversity & Inclusion. He is not someone who would say, he doesn't see race. He sees it and he celebrates it; it shows in how he leads, how he talks and even in his music preference! I have always been very self motivated, but it doesn't hurt having someone in your corner rooting for you. Joe sees me as a leader and treats me as such, which motivates me to continue fighting the good fight.
This month, B.L.A.C.K. @ Enova will be celebrating the American holiday Juneteenth. What is Juneteenth and why is it important to you today?
Juneteenth, also known as Freedom Day, is the day slavery ended in the United States. June 19, 1865, the Civil War ended and slaves were freed. This day brings about a wide range of emotions. Of course, I'm elated that slaves were freed, but with that comes much hurt because I still don't understand why they were enslaved in the first place. I look down at my skin and I see beauty and strength, but it pains me that others saw something different. And some still do. My ancestors were the property of someone. Much like a house or an animal. Seen as less than. Inhuman. This isn't something that can easily be forgotten. The pain certainly still lives deep down, but what gives me solace is what I often hear from family members, "our bodies were enslaved, but our minds and soul were always free". As Bob Marley says, "Emancipate yourselves from mental slavery. None, but ourselves can free our minds." Because of this, because of slavery and because of everything that has happened since, I need to fight and strive for better each day! My ancestors worked too hard and endured incredible pain and suffering. I will not let them down. I wish we didn't have to celebrate such a day and be reminded of this past, but it is a part of my history and it has shaped who I am today.
What is B.L.A.C.K. @ Enova doing to celebrate Juneteenth?
B.L.A.C.K. @ Enova originally planned a fun happy hour that we were hoping would take place on the 22nd floor. After our transition to remote work, we had to pivot as many groups have. For Juneteenth, our board decided the week of June 15th, we will have a few virtual events. One day we're going to have a lunch discussion with a host. The goal would be to come together to share food, thoughts about the current climate in America and our stories of our unique black experience. Another day we are going to have a watch party. We will select a movie and have a deep discussion. Throughout the week leading up to June 19th, members of B.L.A.C.K. @ Enova plan to change their Slack status icon to a picture of chains breaking. This represents the ending of slavery and will hopefully create a little buzz. Other individuals might be curious as to what this signifies and it gives them the opportunity to read this blog to learn more.  For a sneak peak at the image we'll be using, please take a look below. 
Please visit this site for additional information on Juneteenth.