Enova Values Series: Putting the Customer First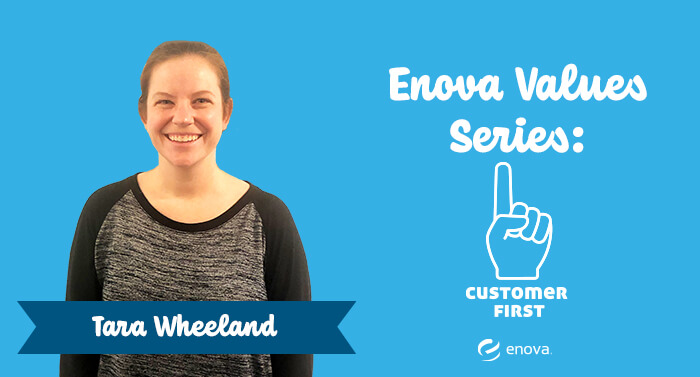 By Tara Wheeland
When I started at Enova in 2018, a big factor in my decision was working for a company that truly put customers first. You hope what you've been told about a company's mission and values is true in practice —and I've found that Enova lives up to and encourages its value of Customers First.
Putting customers first means continually working to create the best possible customer experience. It's finding opportunities to invest in tools and process improvements that benefit customers.
At Enova, we know that customers look to our products when they're in a tight spot. On the Strategy & Operations team, we're constantly looking for opportunities to deliver easy to understand and valuable products for people when they need them. I've had the opportunity to be the lead on numerous product launches and am always impressed by how all of our teams are thinking about the customer. Here are a few highlights:
When we launched our Line of Credit product in a few new states, I worked with our Application Support Department to anticipate what questions customers would have, especially those that would now be able to choose between a Line of Credit or Installment loan. The Application Support Team provided feedback on how these conversations were going, so we could respond to customer needs with the most helpful information.

The Loan Processing Team shared that they thought we had a better opportunity to help more customers get funded faster.  We did a few smaller-scale tests to show that these ideas had a measurable customer impact. Now there is a larger project that will more holistically simplify customer documentation requirements and the workflow, helping customers get funded faster.  

Customer Service Representatives also voiced that our business rules around due date adjustments were both time consuming and complex. I worked with another team member to simplify the process and give customers additional flexibility.
I'm proud to work at an organization where we are encouraged to question how things work today and given the space to try to make them better. A big part of my job is to put the Customer First and provide the best customer experience for them. Enova really lives the value day in and day out.