A Statement of Support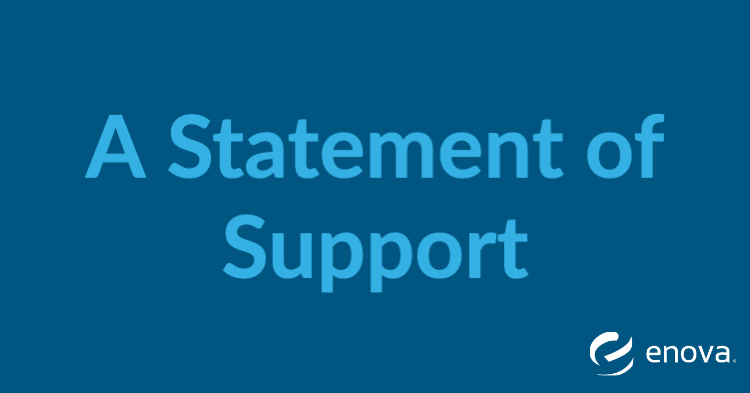 By: Enova
As we approach America's recognition of Juneteenth, commemorating the end of slavery in the United States, Enova re-commits its support to our Black team members and customers who are grieving following the unjust and tragic death of George Floyd, unfortunately only one of many from the Black community. Enova rejects racism, and we strive to create a culture where all are safe, and hate and racism are not tolerated.
From our CEO, David Fisher:
"Now is the time for all of us to step up and make clear and convincing statements against racism and injustice. For those of us who are white or Non-Black People of Color, it is up to us to listen, to learn and to act. We must each make meaningful changes and contributions through personal example as well as in the way we operate our business."
"The leadership team at Enova is committed to this. Enova has always had a focus on diversity and inclusiveness with a heightened focus over the last couple of years resulting in the formation of our D&I Council and our Affinity groups. But we know we can and will improve. We will build on the shared experiences and differences in all of us because our success depends on the diversity of our people. We will be intent on fostering diversity in our recruiting practices, ensuring that our company and Board have inclusive representation and continuing to create a culture at Enova where all are safe and hate and racism are not tolerated."
In addition to Enova's commitment to inclusive board and company representation, Enova will be donating $250,000 to organizations working to eliminate racial injustice. This donation is in addition to Enova's prior contribution of $500,000 to assist small businesses and individuals in Chicago impacted by COVID-19.
We are hopeful that the attention now being brought to this issue will result in lasting change.