Inside Enova: Return to Office Program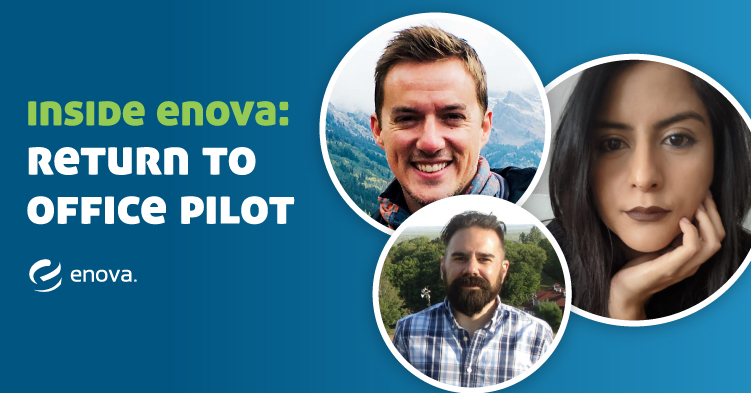 In July, Enova launched a return-to-office pilot program for all team members interested in working from our Chicago or Denver offices. The program was a success, with over 100 team members signing up to work in one of these offices. Due to popular demand, Enova decided to launch a voluntary return to office program and extend it to the New York office. Learn why three different team members decided to return to the Enova office.
Jason
I wanted to participate in the pilot program mainly because I missed being in an office setting and biking to/from work. My commute is approximately 10 miles each way, so riding my bike provided me with exercise to get my day off to a great start as well as blow off steam after a long day. Another benefit was that my partner permanently works from home, so my spending a few days in the office gave him a quiet workspace at home, and we could, then, focus on enjoying our evenings together.
I will admit, at first, I was a little apprehensive about going back into the office, and if I'd had to rely on taking public transportation every day, it might have made me more reluctant to do so. But thankfully, I was able to enjoy my daily bike rides and the benefit of interacting with people in an office setting, even though it wasn't the same as having a full office where people are socializing at each other's desks and hanging out after work.
Although most of the teams I work with are still remote – including OnDeck, who likely will always be in a different office – I still enjoyed seeing familiar faces, getting a change of scenery, and the feeling of "going to work" a few days a week. I am participating in the RTO program now that the pilot is over, but as winter approaches, since I ride my bike to work, there's a chance I might change my mind and revisit it in the spring. 
Maria 
I decided to join the pilot program because I missed the office. One of the challenges I had working from home for such an extended period was keeping my home and work-life separated and balanced. Also, I live alone, so going into the office a few days a week got me out of the house and allowed me some social time while at work. The morning that the pilot program kicked off, I was very excited to go back to the office, but I became a bit emotional as I walked into the building for the first time in what felt like forever. I had missed this place. 
As for the pilot program itself, I enjoyed all aspects, including the scooters and seeing people beyond my team — colleagues I haven't seen in a long time and wouldn't otherwise because we aren't working on the same projects. Plus, the program was well organized and felt effortless because the team had taken care of everything. I felt safe but, more importantly, a bit more "normal" in a way, simply because I was able to sit in the same room with people and have in-person conversations about work or otherwise. 
I am still in the program, and it is very nice to be able to go into the office some days, but know that I can choose to work from home from time to time as well.  
Adam 
When I walked back into the Denver office on July 13th as a member of the return to office pilot group, I felt a strange mix of the familiar and unfamiliar. My favorite part was getting to be in the same room with the familiar faces of team members that I hadn't seen in person in well over a year. It felt like a one-year high school reunion (if such a thing exists). 
Being back in the physical space I occupied for four years was both comforting and a little strange. There were some differences, but for the most part, I had no trouble settling back into my old in-office routine — including getting to enjoy some of my favorite lunch spots like Poke World and, of course, Potbelly's!
However, the experience also reminded me that I was a little out of practice working in an office. From docking and undocking a laptop to the "transit time" between meeting rooms, to the quick decision calculus on whether your virtual meeting topic is appropriate to take at your desk, to using a new conference room video system, and more. There were also reminders of the lingering pandemic like the "stand here" stickers in the elevator, arrows on the floor, and fellow masked occupants of the Denver Post building. 
To shake any uneasy feelings that might come with returning to a mostly still empty office, I reminded myself that the people at Enova are what make the experience enjoyable, more so than the physical space. Our little group in Denver had an end-of-day huddle, a happy hour, and we even re-started a Denver tradition called the Gong Show, where everyone gathers to share wins and "gratitudes." And, yes, there's an actual gong that we hit! 
All the human interaction quickly brought me a little closer to the mission and a little closer to the business. All of this was a great reminder that we all contribute every day in our own unique way and regardless of our role or dept. And, we help each other in unplanned ways like an unexpected laugh or an impromptu conversation about the state of the team, department, or business as a whole. 
And while I didn't look forward to getting into my car to fight traffic home, I did realize the time and space between work and home is beneficial in ways I may have otherwise taken for granted. If nothing else, it gives our brains a chance to wind down, ponder unfinished ideas, or simply zone out to music or a podcast. 
Perspective is a gift. I can now appreciate the value and benefit of working from home and the importance of being around people. Getting the chance to be part of the RTO program has given us an immersive deep-dive into what is often called the "new normal."