Get to Know Enova's 2021 Summer Interns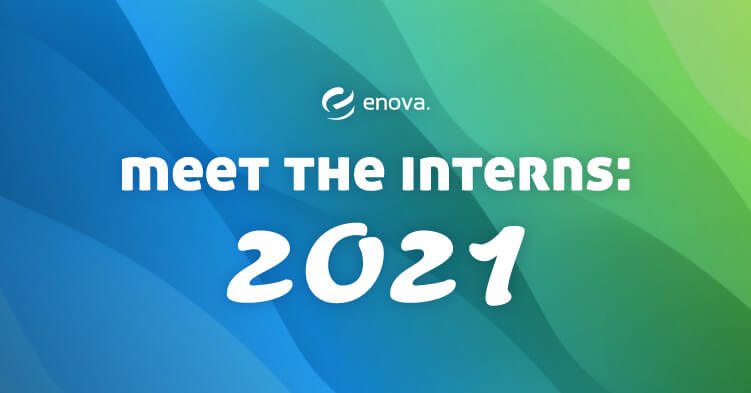 We're always excited to have summer interns, and this year was no exception! Our internship programs are perfect for university students looking for valuable real-world experience. Recently, we (virtually) interviewed three of our summer Interns, all of whom worked virtually and will soon transition into full-time roles, on their experiences at Enova.
Simon Balisi      
Chris Nicholas
Sijia Du
Why did you initially want to join Enova for the summer?
Simon Balisi: When I was looking for internships, I prioritized roles that would allow me to get some business experience. I've taken lots of technical classes throughout school, so I wanted to try something a little different. When researching companies and interviewing with Enova, there were lots of positive signs that this role could be right for me. Immediately I noticed the  people were very friendly and interested in what I wanted to get out of the role. And at the end of the day,I realized even if a more business-facing role wasn't a fit for me, Enova would give me an introduction to the FinTech space where there are more technical roles available.
Sijia Du: I joined Enova because of the smooth interview process. The questions asked in the interview quickly convinced me that Enova hires people with technical skills, logical thinking and business sense. That means, if I joined Enova, I would be able to work with these types of people, which made me feel super excited. The interviewers also explained how teams work collaboratively instead of competitively. It precisely was  what I wanted from an internship — the opportunity to learn from others.
Chris Nicholas: I initially wanted to join Enova for the summer because it seemed like an excellent opportunity to expand my development skills while getting to work on real-world projects at the same time. Enova also seemed like a company that values its interns and takes time to invest in them and their careers.
What was your favorite part of the internship?
Simon: I've done a lot while interning at Enova, so it's hard to pick one part that stands out the most. Of course, the virtual social events were fun because I met and interacted with the other interns, which helped me feel more connected with everyone. I think my favorite part would have to be getting to speak to dozens of people across the company as a part of my projects. Hearing what people work on day-to-day and their experiences at Enova shaped my impression of the organization as a whole and helped me realize there's always an exciting project going on.
Sijia: My favorite part was learning about model designs from my team and talking with people on other teams to learn how they manage their projects. Being able to touch both the technical and business sides of the company really was a fantastic experience. 
Chris: My favorite part of the internship was getting to work on a project in the field of production and used by people across the organization. I also enjoyed all of the opportunities to meet and connect with people across the company, as this allowed me to experience  Enova's culture, firsthand.
How did your manager/captain support you though the internship was 100% virtual?
Simon: We've had daily one-on-one meetings, which are super helpful.  In the first week, I remember I was unsure what to expect, but those first few meetings helped me hit the ground running. Once I got settled, my manager was always willing to review my work, suggest improvements and guide me through projects. Also, if there was something he couldn't help me with,he connected me with someone else who could, which ensured I could keep making progress on my projects.
Sijia: My manager, Courtney, provided me with a detailed outline  for my project as guidance before the internship started. During the internship, she also gave me a lot of freedom to explore my areas of interest . My manager also was incredibly supportive and responsive, even quickly replying to my slack messages and conducting regular Google Meet/video call check-ins, which always made me feel connected to the team.
Chris: My manager scheduled daily meetings with the other intern on the team and me to ensure  we had everything we needed and to help us if we were struggling with anything. In addition, the entire team I worked with was very supportive, so I always felt comfortable reaching out to anyone with questions or concerns.
What are your big takeaways from your summer with Enova?
Simon: I think the biggest takeaway for me is that corporate work is so much different than schoolwork. It was my first internship,so I really had no idea what to expect. That said, the culture at Enova was extremely welcoming. They also gave us plenty of opportunities to engage with fellow interns in a more relaxed setting through our virtual social events.
Sijia: I can't express how much I have learned in the past eight weeks. The biggest takeaway for me is how hard everyone worked so we could learn as much as possible, but at the same time, we had a lot of fun and met tons of cool people at the company.
Chris: My biggest takeaway of this summer is that understanding and adding to a large, already developed codebase is not as intimidating as it might seem. I was lucky to work on such a supportive team with structured development practices, so from the first time seeing the codebase to making new contributions happened very fast.
What is one piece of advice you would share with future interns?
Simon: Don't put yourself in a box when it comes to working and interacting socially.  There are plenty of opportunities to explore different projects and connect with your manager about other work at Enova. Unlike school, there are no "answer keys" for your work, so don't get hung up on always knowing the right way to do something. Also, meet your fellow interns! Our course, it would have been way easier if we'd been in person this summer, but interacting, even virtually, makes your days a little brighter and gives you a fun way to relax during your breaks.
Sijia: Do not hesitate to reach out to people with questions or to discuss any areas of interest outside of your main assignment. . Everyone at Enova is willing to help and share — take full advantage of it!!
Chris: Do not be afraid to ask a lot of questions. Everyone is very supportive, and there is no reason to struggle when someone can point you in the right direction. And, when you're in a virtual work setting as we were this summer, staying connected to your manager and other teammates proves invaluable.