Meet Kelly Jordan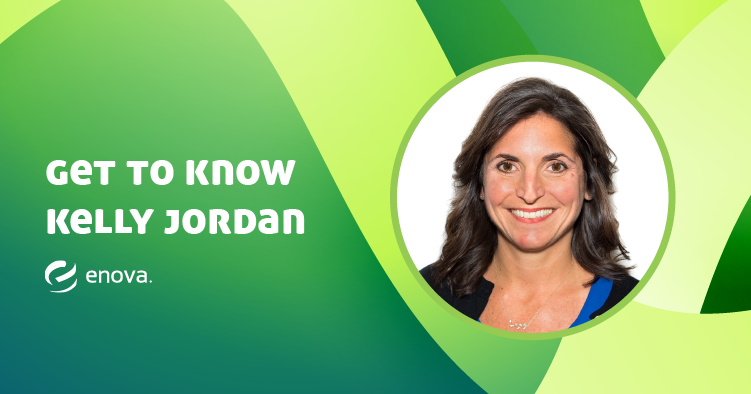 Today we interview Kelly Jordan, who was recently promoted to Vice President of Global Marketing and a member of the Enova Executive Team. 
Q: Congrats on your new role, Kelly! Let's take it back a few years; why did you choose Enova?
A: Cultural fit has always been a key driver of my career decisions. Throughout my interview process at Enova, everyone I met with demonstrated a collaborative, data-centric approach – both are things that are very important to me. The process was thorough but moved quickly, and I took that as a sign that it was an organization that could drive to a decision. Finally, as a former finance geek, I enjoy the complexity of products in the financial services industry and was intrigued to learn more about the need for and help provide a solution to access to credit. It's very different from the customer base/product offering that I had worked on in previous roles.
Q: What is your favorite part of Enova?
A: I really enjoy working with smart, collaborative people. I also really enjoy the opportunity to work on multiple brands serving different customers and at varying stages of maturity. Every day presents new challenges and opportunities, which keep me learning and growing.
Q: What do you see as the most important part of your role as Vice President of Global Marketing?
A: I think it's critical that my role and the broader team continue to advocate for the customer – ensuring that the overall experience with our brands is positive and sharing insights with the rest of the organization to influence customer-first products, policies, and experiences.
Q: How has the Marketing Team changed since you joined? What is your favorite thing about the team? 
A: I really love that we are centralized, supporting all of the P&Ls. It creates a lot of opportunity for the team to grow and develop by working on different P&Ls or different functions within a P&L.  Over the last three years, I've seen so many members of the team grow into bigger roles, and we have been focused on building the next wave of talent, which is exciting to see.
Q: What qualities, habits, and practices enable you to be successful as a leader?
A: When I think about what has helped me grow both here and in prior organizations, it's having a broad enough understanding of the industry so that any ideas, recommendations, or prioritizations balance the broader business needs and not just my specific role or function.  I am also a big believer in making time to take care of yourself and for things that are important to you outside of work, as it gives you the energy to be more productive and innovative at work.
Q: How has your previous experience prepared you for your new role as Vice President of Global Marketing? 
A: I've been interviewing a lot of candidates lately – like all of us. One question I routinely get is what makes someone successful at Enova. I highlight adaptability – embracing change which often creates opportunities for future growth. I had a couple of experiences earlier in my career that have helped me embrace change. For example, at a previous organization, I was promoted to run a key part of an acquisition right before the financial crisis hit. Once it hit, we contemplated shutting down the portfolio for good, but ultimately navigated how to relend, post-crisis, profitably. The experience actually opened up a lot of doors for my team and me, and exposed me to other parts of the business on a more strategic level.
Q: As a team leader, how do you help your own team grow?
A: I think it's important to understand the professional goals of your team members and to always be looking for projects that stretch them outside of their day jobs and help them move towards those goals.
Q: Last question: What's something surprising people would be interested to know about you?
A: I alluded to this above, but I actually started my career in finance. While always a numbers person at heart, I switched to marketing during business school to get closer to the customers and the P&L. On a personal level, many people are surprised to learn I am an only child. Analyze away…