My Adventures at Enova: From Chicago to South Jordan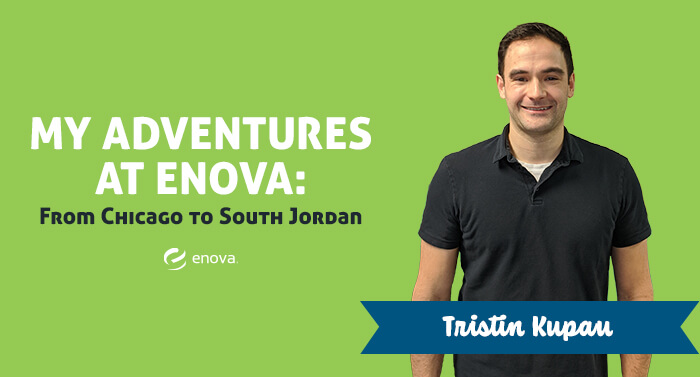 By Tristin Kupau
My name is Tristin Kupau. I was a Section Manager III for NetCredit Loan Processing in Enova's Gurnee office. In February, I transitioned to the CashNetUSA Application Support Team in Utah. I started at Enova almost four years ago as a representative for the CashNetUSA Loan Processing Department.
My favorite thing about Enova is that we live by our Values. One of our Values is "Best Answer Wins," and it means that ideas from everyone are taken into consideration. It doesn't matter if you've been with the company for 5 months or 5 years. I've seen many different instances in which one person's idea drastically changed a team or the company for the better. 
A lot of thought went into the decision to relocate to Utah. Family, friends, finances and lifestyle were just a few things that my wife and I had to consider.  While we wanted a change,  the opportunity to move and stay with a great company is too rare to pass up. In addition to just knowing I have a stable position when moving, helping expand the existing Utah office will be a fun undertaking. Being able to help lead a growing contact center with enormous room for growth is an amazing adventure that I am very lucky to be a part of. I also know I have been incredibly fortunate to have been surrounded by great people during my time at Enova. While I will miss the team members I work alongside each day, they helped make the decision easier. I want to bring everything that I learned from great managers and associates at our Gurnee office to Utah and continue building something unique and exciting.
As I said before, I have been extremely lucky during my time here at Enova. I started in 2016 as a Representative for CashNetUSA Loan Processing. After a year on the Loan Processing team, I moved to the new  Customer Service Chat team. Six months after being on the Customer Service Chat team, I moved to the Collections Chat team. In December of 2018, a position for a Section Manager in Loan Processing was available, and I immediately applied. After being promoted to a Section Manager I in CashNetUSA Loan Processing, I moved to NetCredit Loan Processing in October of 2018 as a Section Manager II. I relocated to South Jordan as a Section Manager III to help manage a growing Application Support Team and bring the Enova culture and values with me to the expanding team there.  
My time at Enova has been great. One of the main reasons that I am still with the organization is because of the people —representatives and leaders alike. Every manager that I have had the privilege of working with has supported me in ways that I would never have expected in a company this large. This goes back to what I mentioned before — the Best Answer Wins, no matter who it comes from. Whether I was a rep or a manager, the leadership team always listened to my concerns and ideas for process improvements and rep development. While not all my ideas were feasible, leaders worked with me to understand why something could not be implemented. Then we would work together to try and find a solution that we could move forward with. I have always been able to talk to my leadership team. Even leaders my team does not report to have helped me succeed by learning to understand who I am and what I am striving to accomplish.
Going to Utah has been an exciting change and has provided me and my fellow leaders a great opportunity to set up a culture where the representatives can succeed. Obviously, processes and product knowledge are critical. However, one thing I want to emphasize is how Enova really is an Awesome Place to Work. While our Utah office is smaller than the other Enova offices, I still want to make sure the culture is similar to the other offices. . I also want to impart my experience and knowledge with the company to the new team members and I hope that will inspire them to succeed. 
Every day, my main focus is my team members. When I am not meeting with them to go over metrics or review calls, I am trying to make processes easier and more efficient for them. My two main goals are: to make sure the representatives have what they need to be successful and to make sure my team members are getting credit for the progress they make. I have found that some associates just need a little bit of extra support and recognition to move to the next level in their career. I believe that I have helped some team members with that, and I want to continue helping them grow. It is an amazing feeling to see them succeed, and that is what I strive for each day. 
I hope that I bring a hardworking, focused and understanding mentality to my new team and look forward to seeing them succeed in their new roles.