Enova U: City-Wide Scavenger Hunt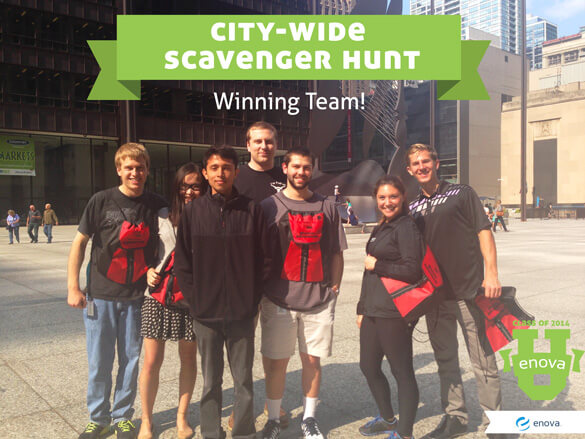 By: John Vall, Software Engineer Intern
August 7, 2014
Four weeks left of our internship, and we're hard at work completing project requirements and preparing demos for managers and other development employees. It seems like we're making more code commits every hour than there are L trains passing the office. I'm very proud of what our team is accomplishing with a tight deadline, but what's the harm of some friendly competition between fellow interns?
This past Thursday, we participated in a city-wide scavenger hunt that started at Daley Plaza and led us through museums, swanky hotels and numerous parks (including an obligatory visit to "The Bean"). Having spent some decent time in Chicago prior to this summer, I knew the city fairly well, but not well enough to know what sport the goblin between Madison and Monroe Street on Michigan Avenue prefers (hint: Mike Ditka would approve). We hustled from location to location, completed the goals, and earned bonus points in between. One challenge even involved pretending the steps to the Palmer House were a carnival ride — something the businessmen arriving in suits must have found amusing. I am also proud to announce we placed first.
Our team was driven to solve each clue, which accurately reflects the environment in which we work: team and results-oriented. I appreciated the opportunity to get out of the office to have fun and meet employees from other departments as well. It will be one of my more memorable experiences this summer. Now off to go-karts!