Enova Ranked Second in Chicago for Gen Y Talent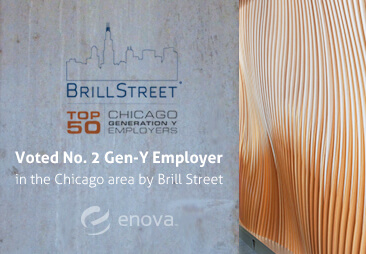 By: Kaitlin Arntz, Public Affairs
January 14, 2014
Brill Street + Company, a Chicago-based talent-recruiting firm, has posted their list of the Top 50 Chicago Employers for Gen Y Emerging Talent, and Enova is thrilled to find themselves right near the top of the list at number two.
Generation Y individuals — those born after 1980 — currently comprise a substantial portion of Chicago's workforce, and are expected to make up as much as 75 percent of the world's workforce by 2025.1 It's easy enough to see why employers have begun to focus their energy on this portion of the populace, though pursuing Gen Y talent and recognizing their contributions can be two very different things.
"Enova has certainly made Gen Y a priority, and there are several reasons for this," said Julie Emerson, Enova's Recruiting Manager. "First, as a tech company, we often find great talent within this group. Beyond that, Generation Y offers a unique take that employers can benefit from. They see their work as their mark on the world, and not just a means to a paycheck. That can be a very important asset."
The criteria for Brill Street's list is simple: At least 10 percent of a company's workforce must be Gen Y, and they must have at least one office in the Chicagoland area. In addition, Brill Street evaluated the ways that employers appeal to their Gen Y workforce, with a focus on benefits, salary, company culture, flexible hours, professional development, facilities and environment, corporate social responsibility, paid time off, travel requirements, and company reputation. With these assessments in mind, Enova is especially proud to have been recognized as one of Chicago's top employers for young and emerging talent.
"Engaging Gen Y talent is something we're very proud of," said Emerson. "It's good to know that our hard work in this area is being recognized."
REFERENCE:
1Samuelson, K. (Feb 05 2012). Retaining Gen Y employees – Chicago Tribune. Retrieved from http://articles.chicagotribune.com/2012-02-05/business/ct-biz-0205-outside-opinion-gen-y-20120205_1_baby-boomers-workplace-generation-x-employees