List of Top 50 Most Engaged Workplaces™ Includes Enova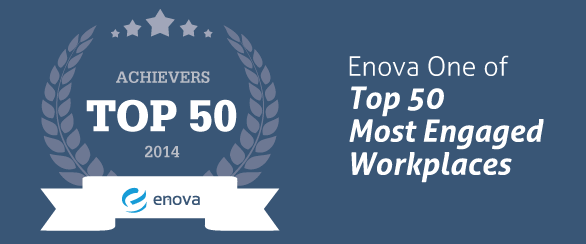 By: Kaitlin Arntz, Corporate Affairs
January 15, 2014
Based out of San Francisco and Toronto, Achievers Software and Service™ provides employers with software built to inspire their employees. Achievers understands the impact on employees of maintaining an engaged workplace, and each year releases their list of the Top 50 Most Engaged Workplaces™ in the United States and Canada. For 2013, Enova is honored to be included on the list of United States companies.
For about a year, Enova employees have had the option of recognizing their peers with Enova Spotlight, a program that utilizes Achievers' software. Thanks to this working relationship, Achievers has seen firsthand how Enova works to keep its employees engaged. With a variety of perk programs, access to educational tools and workshops, and other assorted employee-first benefits, Enova has worked hard to place a premium on employee engagement. It means a great deal to be included on Achievers' list of the Top 50 Most Engaged Workplaces™, and Enova will continue striving to create a work environment that brings out the best in its employees.
More information can be found here.