Culture: The Most Important Feature in Predicting Team Success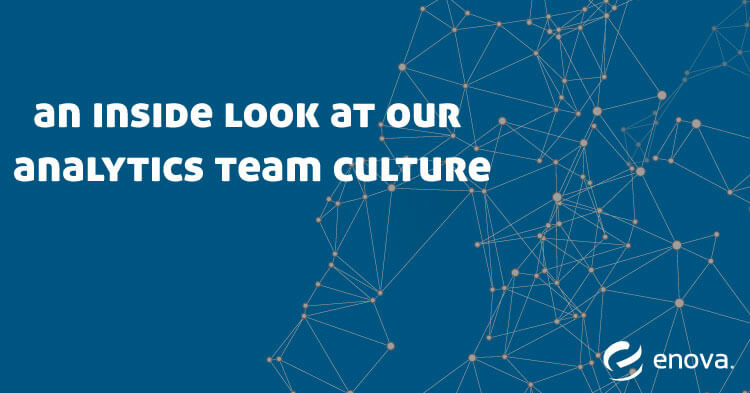 By Amanda Knor, Madhuri Gupta and Vinod Cheriyan
What do pictionary, crafts and 'Cups of Joe' have to do with a successful Analytics team? 
If you ask our Analytics Culture Committee, we will say, "A lot!"
The success of our Analytics team does not come solely from advanced machine learning models or an AWS-based deployment platform. It comes from bringing out the best in all our team members. Fostering a strong culture that allows team members to work collaboratively and trust one another ensures our team is able to make sure the 'Best Answer Wins.'  
The Analytics Culture Committee organizes events that nurture such collaboration. By designing events that cut across sub-teams, team members' work and non-work skills and talents shine. This gives rise to new connections that can be carried over into day-to-day projects. 
This is how we make our entire Analytics Team stronger as a whole – as opposed to a collection of independent data scientists trying to solve challenges on our own. 
How did we get here?
In 2016, the analytics department facilitated our first annual offsite event. The offsite is outlined and hosted by team members who volunteer to help plan the event. These offsites are intended to foster creativity and inclusiveness, and to help the analytics department be the best version of itself. After the success of the first offsite, Joe DeCosmo, our Chief Analytics and Technology Officer,  asked us to continue this volunteer committee, and the Analytics Culture Committee was born. Since 2017, we've evolved in terms of members,  types of programs and projects we offer.
So what makes this work? 
The committee has found success for a few reasons. The members of our committee represent the diversity within the Analytics team. Our membership is made up of representatives from every sub-team and is diverse in terms of gender, tenure, experience level—and new members are always welcome. The diversity of our membership ensures we represent the entire department fairly. It also allows us to hear and solicit ideas from our department's various sub-teams and individuals. The original idea for our recent virtual Pictionary event actually came from outside the committee! It is important to remember that good ideas can come from anywhere at any time. 
Like any successful Enova team, we also need to be flexible and agile. COVID-19 posed an interesting challenge for the Analytics Culture Committee. How do we design events when there's no opportunity for in-person social interaction? We were quick to move existing programs virtually and designed new activities that make sense for our remote work world. 
We wouldn't be able to achieve everything we have without full executive support. Our Chief Analytics and Technology Officer, Joe DeCosmo, champions us, but also challenges us. He plays an active role in driving the vision and direction of the committee and provides a budget for our events. Since Joe also leads our technology department, our Technology counterparts often join in on the fun. 
Evolution of activities and our role
Our keynote event, the annual offsite, started small and was largely focused around internal knowledge sharing. It quickly evolved to inviting cross-department and external speakers. After soliciting feedback and topics of interest from team members, we experimented with different levels of technical and fun activities to keep engagement and energy levels high. One year, we even focused entirely on entertainment and designed the offsite exclusively around games. No matter what activities are planned each year, our offsite always wraps up with a serene boat ride on Lake Michigan. Our overarching goal of the offsite is to make our department stronger as a team, and we've found a mixture of tech and fun leads to the most success. 
Beyond the offsite, we organize Lunch and Learns to share new learnings, coffee chats with the executive team, and a variety of additional opportunities throughout the year. This year tested our rigor as a team. To keep team morale and engagement high during remote work, we quickly pivoted and now host virtual activities like yoga sessions, a book club, a virtual pictionary night, cross-team online lunches, and weekly video challenges. These activities have kept the team close even while working remotely. We've also had the opportunity to create conversations around social justice and how we can be more inclusive at work and in life. The committee's activities have matured and evolved over time to foster a sense of belonging, encouraging each of us to be the best version of ourselves.
Where do we go next? 
In the words of Curtis Mayfield, "Keep on, keepin' on." We want to keep providing engaging programming to continue fostering creativity and connection among the different teams within the analytics department. We believe we help shape the Analytics experience at Enova and with management's support, we are able to make a large impact. We're committed to continuing to listen to team members and continuously iterating our offerings to best suit their needs. Our hope is that we have built a sustainable system that will live on beyond the original members, and even more so, we hope that we inspire other departments to take what we do and make it their own. We'd love to see every department have their own version of a Culture Committee!