Summer Internship + Pandemic = ?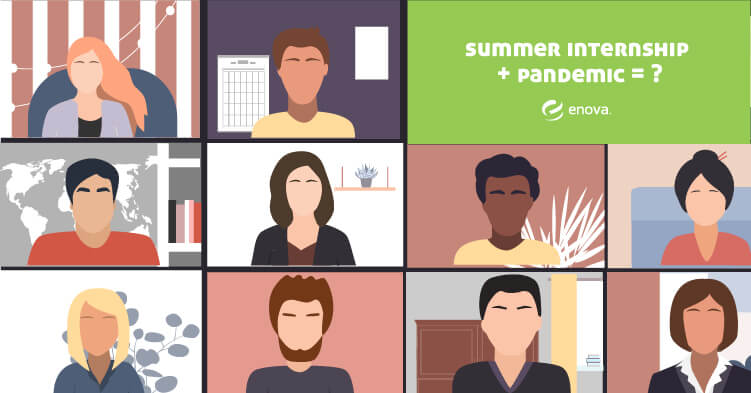 By Sara Gehrdes
This is the first of a three part series where we explore our 2020 summer internship program. In Part One, we share how we made the decision to move our internship virtual. In Part Two, we delve into the intricacies of adapting the internship program so it could be successful while remote. In Part Three, we'll dive into feedback from some of our interns on their overall experience.
Each summer, Enova welcomes a number of undergraduate and graduate students to the company to intern for some of our key departments — typically Analytics, Software Engineering and Strategy & Operations. The internship is usually 10 – 12 weeks and is one of my favorite times of the year because of the energy the interns bring to the organization. Their energy inspires me and many others at the company, reminds us of where we were when we first started our careers and how much we've grown since. Beyond simply the fun of having students at the company, there are obvious benefits for Enova. The internship provides leadership opportunities for our full-time team members, extra sets of hands to work on projects and an opportunity to build an entry-level pipeline of talent. Often, if the intern performs well, we extend full-time return offers. For the past few summers, we're proud to say more than 70% of our return offers have been accepted and those interns rejoin the company full-time after they graduate.
While recruiting for our 2020 intern cohort, we could not have foreseen that the world would be struck by a pandemic in the months immediately prior to the internship and that Enova would move to remote work in mid-March. We knew our 16 interns were excited to move to Chicago, work in our office, integrate into our teams, and work on challenging and impactful projects, but, once it became clear we would be remote for awhile, we realized it wasn't realistic for us to offer a business-as-usual internship. As a company, we have always believed it was important for team members to be based in our office to foster collaborative and creative work and Enova didn't have much experience with remote work. As a company, we were adjusting to "the new normal", but it wasn't without its challenges. We had never onboarded a full-time hire remote, let alone someone as junior and fresh as an intern. So, what to do? 
A number of organizations across the country opted to cancel their internships altogether but we knew cancelling altogether would devastate our interns. We also knew they most likely had multiple internship offers and chose to join Enova. They committed to us; we wanted to uphold our commitment to them, but had to ensure we could still offer a great internship experience. Recruiting got to work researching and brainstorming ideas about how we could feasibly create an experience that made sense for both the interns and Enova. For the interns, how can we give them the opportunity to work on great projects and exposure to Enova's culture? For Enova, how can we evaluate intern performance and culture add, while delivering an experience that would make someone want to accept a return offer? Like many other companies, we were also trying to be smart about our spending and control costs where possible.
Even though we hadn't yet decided if the internship was still happening, we quickly reached out to our interns to reassure them we were working on it. We built an F.A.Q. and shared it with them in order to be as transparent as possible. We included some of the potential outcomes we were considering, and some additional information around Enova's move to remote work. We let them know we'd have a determination one way or the other by mid-April and we got to work.