Belonging Starts on Day One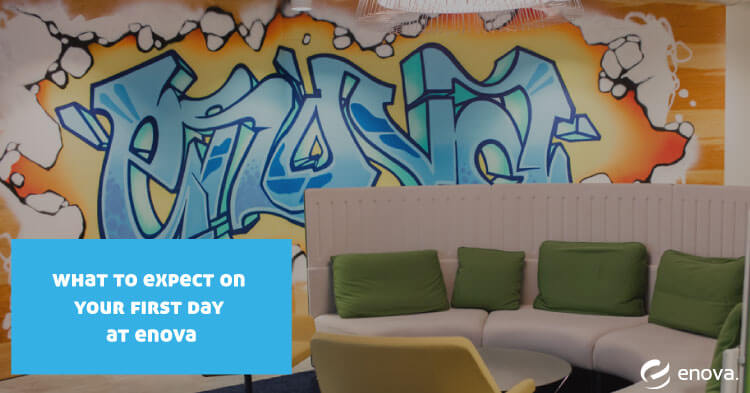 By Mercedez Jones
Recently I had the exciting opportunity to onboard Enova's first fully remote group of interns, spanning from the east to west coast. While their onboarding experience may not have been what they imagined when they first accepted their internship offers due to the virtual setting, my hope is each person felt a sense of belonging by the end of their first day.
Since joining Enova almost one year ago, I've experienced firsthand how important our onboarding program is to ensure our new team members know they are joining more than just a company; they're joining a community. During a normal, in-office orientation, one of the first activities that new hires take part in is heading up to our contact center to sit with representatives across all our brands and listen to their live interactions with customers. I think this can be one of the most impactful parts of the day one experience as it grounds our new team members in one of our most important values — Customer First. Our entire Enova community is rooted in our pursuit to do what's best and what's right by our customers, and this opportunity allows new members to see it first hand and ask questions to  our experts at the heart of our products.
This experience has been temporarily lost to new hires since the transition to a fully virtual environment, and while nothing can replace the live experience, we attempt to bring that understanding through videos, customer testimonials, and clear understanding of how we are supporting our customers during COVID-19. We look forward to inviting all of the employees hired during the remote time period to a listening session when we safely return to the office. 
Traditionally, after a presentation about our company that provides an overview of our culture, values, affinity groups and allyship, performance, and questions, new hires would get to go on a team-oriented scavenger hunt around the office. Since moving remote, we're still doing scavenger hunts — they just look a little different. There's a lot of useful and often unknown information on the Enova website, so we've devised a website scavenger hunt in lieu of the in-person version (you can take it yourself at the end of this blog post!)
My personal favorite part of orientation wraps up the day: the Executive Welcome. Almost all new hires have a chance on day one to meet at least one member of the executive team, if not two (David, our CEO, often makes a surprise appearance during the day). This is an exciting time for new hires to ask questions about Enova, the culture, and their roles, and also allows for our leadership team to share their vision, strategies and hopes for Enova right from the start. It also gives us an opportunity to get to know our executives on a personal level. For example, we learned that in quarantine our CEO is studying Spanish, and Steve, our CFO, has bought a turntable to listen to his favorite albums on vinyl.
As exciting as all of these parts of orientation are, Enova is always looking for ways we can improve.
Currently, our biggest focus is ensuring that our new team members are aware of all the growing resources and affinity groups at Enova. Over the last year, Enova added four new affinity groups (you can find our full list here) and we previously encouraged team members to join multiple groups once they settled into their teams. Now we encourage new hires to join any group on their first day. We want people to feel as though they belong at Enova from day one, and this is an important step to achieving that goal.
Our People Resources system team has also partnered with us to develop a new onboarding platform that helps new hires navigate paperwork, benefits, compliance, highlights helpful resources, people, and tips for joining Enova.
We are excited to see where these new improvements take us and how they continue to elevate our New Hire Program, but most importantly we are excited to welcome new members to our Enova community and make sure that each employee feels like they belong with us and can bring their best selves to work.
Enova Website Scavenger Hunt Questions
What is Enova's mission?

What countries does Enova operate in?

What is the name of our Brazil product?

Who is our Chief Marketing Officer?

What year was Enova listed on the NYSE?

What year did the company officially become Enova International?

What is Enova's current stock price?

What are the 5 Enova values?

What is Enova's company tagline?

Name two organizations that have recognized Enova as a great place to work?

What are three perks you can get while working at Enova?

What is the title of one Enova blog post in 2020?

Name three members of Enova Board of Directors.