Creating a Community with HOLA @ Enova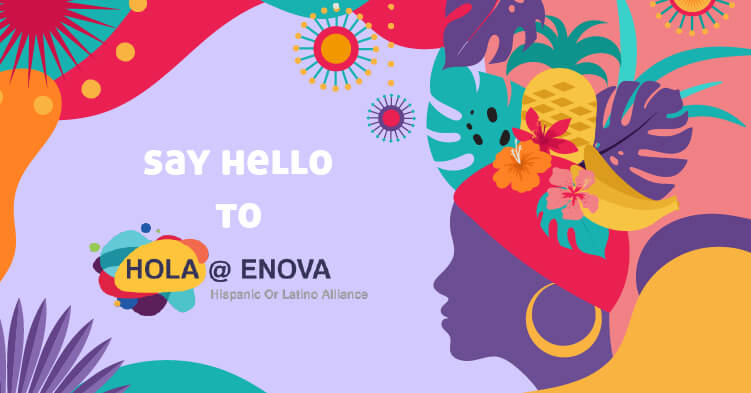 By Ana Parrott
My name is Ana Parrott. I am a Digital Marketing Associate for Enova's small business brands: Headway Capital and The Business Backer. I am originally from Valencia, Spain. I moved to the U.S. three and a half years ago and joined Enova in September 2019. I moved to Chicago without knowing many people or knowing much about the city. I started attending networking events organized by local nonprofits and community organizations, met amazing people and new friends. Meeting individuals with similar interests, backgrounds and stories that I could relate to was very valuable and helped me navigate my new home. Additionally, I've always been very curious to learn about different cultures and these communities introduced me to a lot of new people from around the country and the world.  
My first experience in a Latinx affinity group happened before I joined Enova. I truly enjoyed giving back to the communities I care about through the affinity group, helping individuals connect and contribute to the company's diversity and inclusion goals. I knew this was something I wanted to continue being a part of no matter where I worked. 
In fact, a big part of how I ended up at Enova is due to my participation in affinity and networking groups in Chicago. I applied to Enova with a referral from an Enova employee, who I met through women in tech and Latinx community groups in Chicago. From the beginning, I had shared my interest in joining the D&I community at Enova and was introduced to team members who were interested in starting a Latinx and Hispanic affinity group. We used the 'hola' Slack channel that had grown organically in the past to reach out to team members and gather interest in joining the board. We had informal meetings to figure out what we wanted our goals to be and the process of how to create a new group at Enova. A few board members had started other affinity groups at Enova before so they were familiar with the process. 
This all culminated in January of 2020 when HOLA @ Enova officially launched. H.O.L.A. stands for Hispanic Or Latino Alliance. Our mission is to serve as a resource for Latinx and Hispanic members and to positively influence their experience at Enova. Our objectives are to provide professional development opportunities to our members; retain and recruit members of Latinx and Hispanic backgrounds to Enova by building a sense of community at Enova and raising awareness of Latinx and Hispanic cultures to encourage others to join the group as Allies.
We launched HOLA @ Enova with Carnival-themed events. Carnival is a worldwide event that is celebrated amongst many Latin and Hispanic communities. All celebrations originate from the same tradition but every country has unique traditions. It was a wonderful opportunity to celebrate the founding of HOLA @ Enova, while teaching attendees about the differences and similarities of Latino countries. The event was a huge success and we look forward to growing our community with future events!