Benefits for All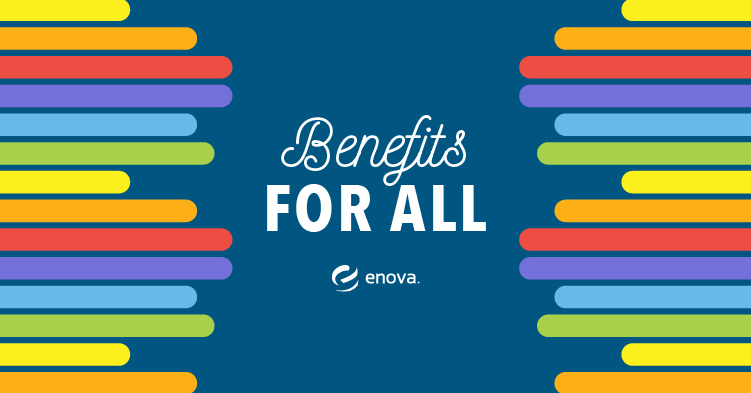 By: Ron Torrance
Culture is an important part of every organization. It demonstrates to the employee community and the outside world how we act, react and engage with each other. A company's culture sets the tone for many of the decisions a company will make. Being a Benefits and Human Resources professional for over 20 years, I have learned that employee benefits, perks and programs are one part of that culture equation. Enova team members have told us that they love the challenging work, smart teammates and autonomy Enova has to offer, but they also love coming to work somewhere where they can be their true selves and feel like they belong. At Enova, we are committed to fostering an inclusive environment, and we want to make sure the benefits we offer our team members reflect that. 
Every year, Enova, like many other companies, goes through a renewal process to determine what changes, if any, will be needed for the coming plan year. This is the time to review competitive market information, trends in the Benefits world, cost mitigation and also company culture. All of these factors are taken into consideration during every renewal. Enova has had a long history of competitive and cost-efficient benefits for its team members. In continuing with this tradition, we have taken steps to review and eliminate potentially exclusionary plan provisions wherever possible.
This is most notably observed by a recent change we made to transgender and gender dysphoria related coverage under our medical plan. Default plan designs and historic precedence in the insurance industry have included exclusions for such gender-related services. The Enova Benefits team was excited to announce to our team members that we removed all transgender/gender dysphoria related exclusions from our 2020 plan. This means that any valid claims related to health, treatment, procedures and prescription drugs for those in any phase of the gender transition process will not be denied. This exemplifies the culture that Enova fosters for its team members. It was important for us to make this right and improve the benefits offered to everyone at Enova regardless of age, race, gender, gender identity, sexual orientation or religion.
In addition to the changes we have made in employee benefits and perks, we are very proud of the growth and expansion of our Diversity and Inclusion initiatives and affinity groups. As a D&I Council liaison for Pride @ Enova, I am proud to support all diversity initiatives within the organization that works so diligently to support our employees and our community. It is critical as the head of the Benefits department that I remain open and enlightened by the changes that are happening in the world around us. Now more than ever, it is this diligence to adapt and grow that inspires me to translate this into the work we do as a Benefits team. I get the special opportunity to be tuned into the initiatives and culture drivers that all of Enova's affinity groups are working on year-round. I take the information I am able to obtain very seriously and translate that into our benefits renewal process every year.
As we look to 2021, we'll continue to review, evaluate and sense-check our benefits and perks offerings. In today's world, it is more important than ever to ensure that our culture is taken into consideration when planning benefits changes and the Enova Benefits team vows to continue to be diligent in this task. We will continue to ensure our culture and our benefits are inclusive and supportive of all our team members.