Celebrating Enova's Operations Team with Summerfest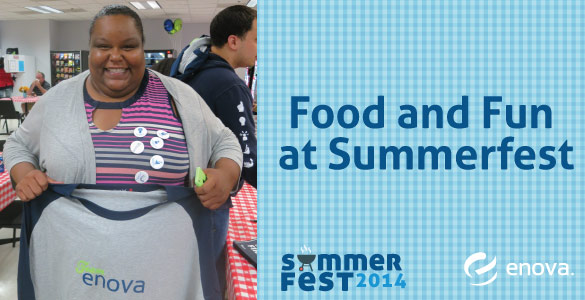 September 4, 2014
By: Eleanor Flaherty, People Resources Coordinator
As the sun sets on another amazing summer here at Enova, we wanted to bust out the grill for one last party before the leaves start to change. In order to make sure that Enova employees are rewarded for their work, we are always working to create fun company events and outings! Last week included one such event: our Operations Team's annual Summerfest! The halls filled with the delicious smells of beef brisket, barbecue chicken, macaroni and cheese, and many other summertime favorites provided by Smoque BBQ. We even had our very own ice cream cart, and cooled down with classic treats like Push Pops, Fudge Bars and Creamsicles.
The fun didn't stop with the food. Guests tested their luck at our Pick-a-Pin Challenge, getting the chance to win points and redeem them through Enova's recognition program. A lucky few went home with some truly great raffle prizes, but everyone walked away a winner when we handed out our new Team Enova T-shirts, which are perfect for wearing around the office or hanging out with friends and family.
Summerfest was packed with food, music, prizes and plenty of mingling with awesome team members. We are so proud of the Enova Operations Team! They live out our core values each and every day and drive the success of our organization.
Go Team Enova!