Bringing My Best Self to Work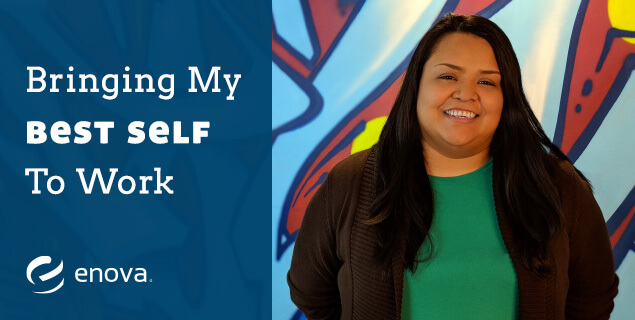 by: Cecilia Fischer-Benitez, Senior Technical Learning Coordinator
A new year is upon us! As we head into 2019, outlining our New Year's resolutions and eagerly planning the year ahead, I think to myself, what better time for some reflection? It's been one year and seven months since I started at Enova. I am currently a Senior Technical Learning Coordinator, an exciting role that I was lucky enough to be able to define and make my own. I have the opportunity to manage the onboarding logistics for all our new software engineers, I coordinate learning and development sessions for the entire Software Engineering team, and I manage our "technical" community outreach. I honestly never thought I'd be working in the Tech space with so many incredibly talented people. Looking back, it was easy to understand why I chose Enova, and knew it would be an awesome place to work.  
My favorite thing about Enova is that I feel as if I can truly bring my whole self to work, meaning all the components that make me, me. I am a lesbian, I am an immigrant, I am a person of color, and I am very passionate about diversity, equity and inclusion. In my role I am able to work with community groups to offer our space and sponsor tech meetups. In 2018 alone, we worked with the Chicago Javascript meetup group, Queer Tech Club, Women Who Go, The Chicago Black Women in Tech Group, Lesbians Who Tech, Women Who Code and Write, Speak, Code. Giving back to underrepresented communities is one of my motivations. I appreciate Enova for being a champion of diversity and inclusion. Whether Enova is lending space or sponsoring events, we have a direct impact that goes a long way.
I was also fortunate enough to be a founding member of our first employee resource group, Women at Enova (W@E). Enova embraced the employee-led movement, and the fact that my ideas were heard made me feel welcome and proud. W@E intends to empower, attract and support the development of women not just at Enova but also within the Chicagoland community. The group helps connect, develop and retain female talent by providing networking, professional development and community engagement opportunities to all Enova talent, regardless of gender identity. I'm also proud to be a part of Enova's Diversity Council. We work closely with our Chief People Officer to identify and create ways to build and sustain an inclusive and diverse culture across Enova.
Enova is a huge supporter of professional development and continuous learning, giving me the ability to learn and grow on a daily basis. We have a technical onboarding program in Software Engineering where our new hires have the opportunity to learn Ruby and Go when they first start. We also encourage knowledge-sharing at our weekly Enova Talks. For the last five years, Software Engineering has dedicated an hour of every Wednesday to sharing knowledge on almost any topic, technical or non-technical. In addition, there are opportunities to learn in other ways. Our tech exchange, analytics rotational program and the job shadow program are a few examples of how we formally encourage employees to grow their skills.  Allowing associates to take time out of their normal tasks to gain a new skill has helped Enova identify permanent move opportunities for employees if they want to take their career in a new direction.
So, what keeps me at Enova? It is a combination of things: the people, the culture and the chance to be able to work in an environment that supports me and embraces all the things that make me unique. I'm proud to take part in building a culture where people can bring their whole selves to work and feel that they can truly make an impact.