Meet Dan Kirsche, Head of Software Engineering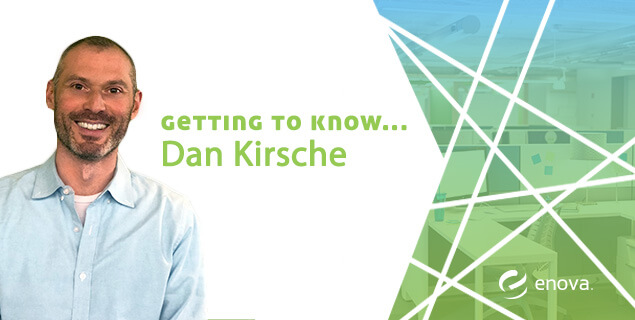 We sat down with Dan Kirsche, the head of our Software Engineering team to learn more about his history in tech and why he chose Enova.
You have a unique background, including owning your own small business. Tell us a little more about that. How did you get into tech?
I always had a passion for technology, and from an early age I knew that I wanted to be a software engineer. I received my CS degree from the University of Illinois Champaign-Urbana. Due to the changing technology landscape and job market, I decided to start my own e-commerce business. As a recent graduate, I chose a fun product — wine.
This was at a time when shopping carts and shipment tracking were novelties. My small business was ultimately successful because I focused on picking the right technology to solve business problems and I had fun doing it. Automating much of the business reduced my costs and allowed me to sell at lower prices compared to my competitors. The site had shopping cart functionality, order tracking, and a paperless order fulfillment system. I successfully sold that business in 2013.
From that experience, I realized that I built some amazing software with just a handful of engineers. I couldn't help but wonder what was possible with hundreds or thousands of engineers. It gave me an itch to experience software engineering at scale.
From there I went on to manage much larger teams at Groupon. I realized that it's a whole different ball game to play in. The way you write software, manage teams and deal with scalability — both on the organization side and tech side — is so different than with a small business.
I have found that I really enjoy the challenges with scaling large tech organizations and the accompanying challenges building highly scalable software platforms.
Why did you choose Enova?
It's simple — there is no other company in Chicago that has the mix of innovation and culture that we have at Enova.
My passion is innovation. It's what I dream about and why I get up in the morning. Innovation at scale is even more exciting. There are very few companies in Chicago that are successfully innovating at scale, or actually need to innovate at scale. Enova is one of the few.
Enova was founded as a cutting-edge approach to the lending space. In fact, Enova essentially created the all-online personal lending market. Innovation is in our DNA. This industry has historically been slow to adopt new tech because of regulations, but in recent years tech has proven capable of disrupting this space, and I see so much opportunity ahead.
Enova continues to lead our industry in developing great tools for our business and our customers. In particular, we have access to a wealth of data and experience from over 5 million customers and over $18 billion in loans and leverage machine learning to build better risk and fraud models. We leverage the cloud to scale quickly and we use mobile to reduce friction for customers. We are also forward-thinking and are researching technologies on the horizon that have the opportunity for continued disruption.
Of course, there is more to a company than just innovation — I want to enjoy where I work. And Enova is hands-down the best place to work. We have a thorough recruiting process that ensures we hire smart people that are the right culture fit. We also have regular engagement surveys and have perks like sabbaticals and summer hours. We embody company values like 'Best Answer Wins' and 'Operate as an Owner' in everything we do. These values are simple and yet very effective in helping build a healthy, commitment-based culture.
What do you think makes Enova different?
One thing that makes Enova different is our dedication to giving back to the community. This is not specific to tech but across the whole company. We have an apprenticeship program where we train those looking to get into software development. This includes a close partnership with a bootcamp focused on veterans, Code Platoon. We have groups like Women@Enova and founded ChiWitCon, an annual conference designed to bring the achievements, aspirations, and career interests of women in technology to the forefront.
Enova also regularly contributes to open-source projects and hosts meetups, including Chicago Javascript, Queer Tech Club, and Women Who Go.
What do you see as the most important part of your role as Head of Software Engineering?
Startups are sexy these days because they are typically where fast innovation happens, whereas larger tech companies are better known for their stability. As someone who has led engineering teams at both fast-growing tech startups and larger tech organizations, I can confidently say that you can get both — I am focusing on that at Enova.
For 2019 my focus will be ensuring that our Software Engineering teams will be leveraging cutting-edge technologies, deploying more frequently, building new products, and continuing to invest in our learning culture. One area that I am excited to concentrate on is the machine learning platform behind our decisions-as-a-service offering, Enova Decisions. We're now licensing the same software we use to run our near-$1 billion business to help other companies make credit decisions.
What does the future of your department look like at Enova?
Enova being a Fintech company means that tech is fundamental for continued success. As Enova grows, so does the tech team, and that means that Software Engineering will continue to see healthy growth going forward. For 2019 we have very ambitious hiring goals.
With the headcount growth comes the opportunity for individuals to progress within the organization. I believe strongly in internal mobility, and that means both vertically and horizontally. Enova is unique in that we have an internal learning team that ensures our teams are continuing to learn and grow in their careers.
Another aspect of our growth is the need to empower our teams and embrace decentralized decision making. Teams are given the autonomy to design, build and manage the systems needed for their teams to be successful.
How is Enova changing its industry with its technology?  
We were one of the first to offer online lending and we continue to set the pace when it comes to building better connections to our customers. We are continually doing this through things like mobile applications and tools for our business that can manage everything from underwriting to our securitization portfolio.
We have also recently adopted same day funding, in a continued effort to increase funding speed and put our customers first. I see a future where mobile plays a greater role in allowing for on-demand credit and see us being on the forefront of any innovation.
Fraud detection and prevention is another area where we are driving the industry forward. By managing our data effectively and making it available to our predictive models, we can both train models more frequently and identify fraud more quickly.
I'm excited about where our company and our team is going, and I look forward to taking big strides in innovation and scalability in 2019.
Want to be part of the Software Engineering team? Apply here.