Enova FAQs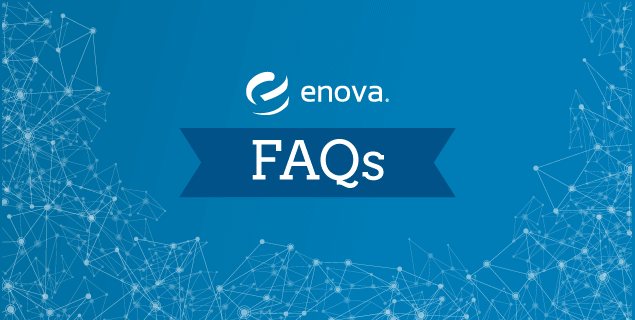 Ever wonder what its like to be part of Enova's Software Engineering team? We rounded up a few Software Engineers and asked them some of the most frequently asked questions in interviews.  
What do you do in your industry?
We provide credit to underserved individuals and small businesses. It's a field with frequent regulatory changes, macroeconomic concerns and interesting lifecycles, so we have a (frankly impressive) internal analytics team that helps us navigate. — Charlie Sturgis, Lead Software Engineer
How do you stay connected to your customers and find out how your work is affecting your customers?
We utilize customer support personnel as the voice of the customer. We also shadow the call center when they are working with customers to better understand how we can help customers. We work to understand our customers' goals when visiting our websites and ensure that they can successfully accomplish their goals effectively. For example, if a user comes to our site to reapply for a loan, we study the error logs and get feedback from the call center to ensure that our site supported the customer with everything they wanted to accomplish. —Michelle Mei Ling Waldorf, Senior Software Engineer I
As putting the "Customer First" is a core Enova value, software engineers have a chance to learn about our customers' experiences first-hand. Through our customer listening sessions, developers shadow call center representatives to hear customers' concerns and understand how we address their needs. We celebrate customer stories throughout the office on posters, quotes, and even pins to remind us of our impact. By keeping up with cutting-edge user interface technologies we ensure customers have excellent experiences utilizing our sites and receive fast, efficient service. — Jonathan Marks, Lead Software Engineer
How does the Software Engineering team work with other tech teams?
We're lucky in that our work with other tech teams is more defined by culture than by process. For instance, when planning improvements in how we see our own systems, I will talk directly to people on the observability team rather than looking at a roadmap. People are eager to work across teams, which I think makes us more productive engineers and happier at work. — Charlie Sturgis, Lead Software Engineer
The SE team always works very closely with other tech teams. Whether it is with the Application & Platform Infrastructure (API) team to build the software infrastructure, the Observability team in order to determine how to best monitor our systems, the Site Reliability Engineering (SRE) team to troubleshoot a production failure, the Security team to protect customer data… we are always collaborating to find and deliver the best solutions to all the challenges we face. Our attitude towards teamwork and culture of collaboration demonstrate we're also constantly looking for better ways to work together. With the help of company leadership and talent development, we've looked for ways to improve and remove barriers to communication and strengthen relationships all across Enova. — Richard Lee, Lead Software Engineer
Software Engineering generally works with other teams in tech to build out and maintain our production applications. IT and TechOps are the difference between code that works on a single developer's computer and code that can be deployed to our data center or the cloud. It's a close relationship. — Aidan Coyle, Senior Software Engineer I
Is there an opportunity for movement within Software Engineering?
Yes, there are several ways to move within Software Engineering. An engineer can permanently transfer to another team or project after being on a team for six months. We can also pursue a special interest project for four weeks under the fellowship program. There is also a 4-week Tech Exchange to another department like TechOps. I've been lucky and had the opportunity to move within Software Engineering twice. First, I participated on a Ranger Team which tackled special projects for six weeks at a time. Most recently, I transferred from the UK team to Supporting Services. — Michelle Mei Ling Waldorf, Senior Software Engineer I
I do think there are good opportunities for people at Enova to move to projects or domains that interest them. We do a good job of finding a place where engineers can develop new skills and interests if they want to. — Aidan Coyle, Senior Software Engineer I
Is there an opportunity to move within the company, not just within Tech?
Absolutely. My move, for example, was from a role in Creative Marketing into Software Engineering. I have seen many of my colleagues make both intra- and interdepartmental moves! The best part was that I was encouraged to join software engineering by both my old team and Software Engineering. It made the process so much smoother. — Gary Cuga-Moylan, Senior Software UI Engineer
How will I know what the expectations are when I join?
Enova makes sure that a new employee has the necessary support to find their bearings. Each new hire is paired with a seasoned Enova employee who will provide guidance, answer questions — whatever is needed. There are periodic check-ins, and expectations are explicitly defined. — Charlie Sturgis, Lead Software Engineer
When you join Enova as a Software Engineering new hire you'll start on the learning team before jumping into production work. On the learning team, you have the benefit of going through our standardized training exercises (known as baseline), attending meetings with people from around the company to learn about Software Engineering and Enova, and getting to know your co-workers. You can expect to have an outpouring of support from managers and co-workers who are ready to answer any questions you have. The culture at Enova is one when everyone's 'door' is open. Managers are accessible and no question is beyond asking. By the time you join your permanent team, you'll have all the tools you need to succeed. — Dan Olsen, Software Engineer I
Are you an agile environment? What does that mean for teams?
Here at Enova, we use the Agile methodology for software development and delivery in order to achieve continuous integration and continuous delivery. What this means for Software Engineering teams is 1) smaller, more frequent releases, 2) tighter feedback loops between engineers, customers and business stakeholders, and 3) greater quality of software and better experience for our customers. As a member of the Deployment Engineering team, we are responsible for the tools, automations, and policies that the software engineers rely on and abide by to deliver code. Ultimately, by improving that time to delivery, we allow Enova to move quickly and grow as a leader in our industry. — Richard Lee, Lead Software Engineer
We're in a modern agile environment, not following waterfall practices, led by an expert who is managing our process. Our teams operate on sprints pulling in the most impactful and high priority stories. In Deployment Engineering, operating the continuous delivery pipelines, we observe engineering teams' product releases as they take place through our deployment process, including pipeline jobs and alert logs. There are dozens of releases across product lines each week. — Jonathan Marks, Lead Software Engineer
You recently had a baby, how was the transition back to the office?
I was so fortunate to have time off to spend with my daughter after her birth. To be able to spend time with my family and not have to worry about taking unpaid time off was such a relief. The support of Donna, who was my manager during the pregnancy, and Lahari, who was my manager when my daughter was born, was overwhelming. Their support enabled me to truly focus on my family during my time off. — Gary Cuga-Moylan, Senior Software UI Engineer
The New Parent Program was amazing! I felt that both before, during and after, people were so great and supportive! All of my questions were answered and everyone was very responsive! I felt completely comfortable before my leave with all of the information I had, and everyone made it easy to come back. I felt supported coming back into the role. Both my manager and my People Resources Representative met with me to make sure I wasn't overwhelmed at all and to let me know they were there for me if there was anything they could do to help me get back into the swing of things. — Jessica Zuniga, Agile Project Manager II
What is your favorite perk?
Definitely the Summer Hours. Who doesn't love more summertime in Chicago? — Richard Lee,  Lead Software Engineer
I have many favorite perks! I love summer hour Fridays where we are done at 2 p.m. each Friday from Memorial Day to Labor Day. I also have an upcoming 4-week sabbatical on my 4-year anniversary. I plan to go on a once in a lifetime trip around the world in the southern hemisphere with my family. — Michelle Mei Ling Waldorf, Senior Software Engineer I  
I'm a big fan of summer hours! The free afternoons in the summer are a great time for me to really explore the city. — Aidan Coyle, Senior Software Engineer I
Enova offers a lot of excellent perks, but if I had to pick one it would be the New Parent Program. In addition to the generous parental leave policy, there are perks like flex scheduling, baby cash and more. These perks, along with caring and empathetic managers, made me feel genuinely supported during this potentially stressful time. — Gary Cuga-Moylan, Senior Software UI Engineer
Being back in the office now, my favorite perk now has to be either the massages or manicures! Having two little ones, I don't always have time to do these things for myself outside of work, so it's nice having them available at work. It's a nice way to relax and be able to do a little something for myself! — Jessica Zuniga, Agile Project Manager II
While Enova's generous 401k match and health plan give me confidence and peace of mind, my favorite perk comes from our company's strong commitment to our professional development. Each Software and Test Engineer is sponsored to attend a relevant technology conference of his or her interest in order to keep up with changing technologies, sharpen skills, develop leadership and network with others. As we're a user of AWS technologies, I've been to the annual re:Invent conference in Las Vegas, at the epicenter of the meeting between a leading technology's user, partner and developers' communities! — Jonathan Marks, Lead Software Engineer
Want to be part of the team? Apply here.