A Win for Women in Tech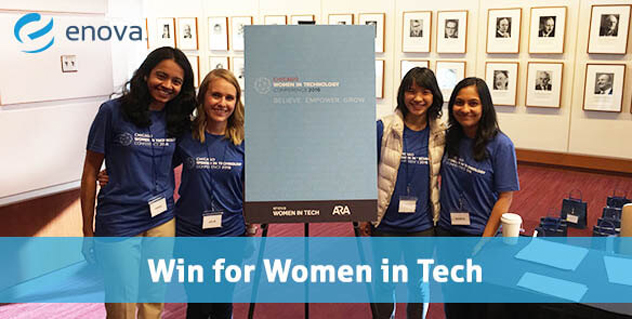 By: Parul Schroff, Lead Software Engineer
On Friday, October 14th, Enova International's Women in Tech group hosted its first Chicago Women in Tech Conference at the Gleacher Center in downtown Chicago. The sold-out event offered attendees a day dedicated to growing and investing in themselves and the Chicago women in tech community. Open to men and women across platforms and technologies, the conference brought the achievements, aspirations, and career interests of women in technology to the forefront.
The day started with a networking breakfast event, where random table assignments ensured people from different interests and backgrounds got to know each other. Following breakfast, Amy Francetic, senior vice president of new ventures and corporate affairs, gave the keynote presentation. Since she's spent her career working alongside engineers and scientists, she was in a great position to share some of her observations about how to nurture innovation – the ability to invent, problem solve, and build amazing things –  for commercial impact.
The next speaker was Vaidehi Joshi who talked about "Failing Fast (and how to keep going)." She shared the mistakes that she made in her first year as a developer. She also shared a few tips to help navigate one's first career in tech, including the fact that there is no end when it comes to learning and that the peak for things we need to learn is always growing.
After lunch break, Saron Yitbarek gave the entertainingly-titled talk, "Punch your feelings in the face." She shared how she uses her feelings to empower herself and to ignore them when they get in her way. This ability to punch feelings in the face is how she taught herself to be assertive, negotiate, speak up and use her voice. Through this deeply personal talk, she discussed the difficult but crucial process of examining feelings, and using them to help us get closer to reaching our career and personal goals.
The last speaker for the day was Allison McMillan, who talked about "Baby Driven Development." She shared how unprepared she was for the challenges of parenting when she first became a mom. After reaching out to hundreds of fellow parent-developers, she learned that there are common challenges and opportunities that aren't spoken about in our community. She explored these survey results to expose common trends and issues and discuss how we as a community, as parents, and as colleagues without children can be more responsive and understanding of the large percentage of developers who are current or future parents.
Finally, the stage was set for the fireside chat by Attract Retain Advance (ARA), moderated by Leslie Vickrey with panelists Christine Stone, Ana Maria Barella and Sandee Kastrul. A few key takeaways from the fireside chat included:
"40% of women who leave tech said it's due to an unsupportive work environment" – Leslie Vickrey
"Don't spend a lot of time second guessing yourself. That which does not lift me brings me down." – Ana Maria Barella
"Write down what values are really important to you. Your posture will change. The way you see yourself will change."– Christine Stone
"Authenticity is being true. Transparency is telling the truth." – Sandee Kastrul
A huge thanks to these incredible women for such an insightful and powerful fireside chat on women in technology.
The day ended with screening of "CODE: Debugging the Gender Gap". This documentary exposes the dearth of American female and minority software engineers and explores the reasons for this gender gap.
We are very grateful for everyone who attended and made this conference a success! We would like to extend our heartfelt gratitude to our co-sponsor ARA for their continued dedication to this cause and also supporting us from beginning to end.