Two Thoughts on Developing Top Talent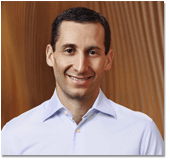 By: David Fisher, CEO
March 27, 2014
At Enova, "Top Talent and Teamwork" is one of our five values. While attracting, developing, and retaining Top Talent is hard work, it creates a sustainable business advantage that fuels our innovation and growth. I have written about the many programs we have in place to create an enjoyable workplace, ranging from perks like snack kitchens and meals to massages and outings. I want to share two other thoughts we have about Top Talent, namely (1) creating opportunities for advancement, and (2) recognizing top performers.
Creating Opportunities for Advancement
At Enova, our sustained growth and successful launch of multiple new businesses has provided the chance for top performers to take on new roles and responsibilities. We try to create roles that give people the opportunity to lead, and we take chances on people in the business who have shown potential (realizing of course that not everything we try will succeed). As an example, one of our business leaders started with Enova as an intern and over the course of three years was promoted to manage multiple products in several countries.
We also support individuals pursuing new roles in different disciplines. For instance, one of our team members began as a customer service representative and transitioned to her current role in Tech Ops after colleagues recognized her skills in that area.
Providing new opportunities within Enova for people, focusing on their potential and not their past titles, is good for them and good for the businesses.
Opportunities for Recognition
We work hard to recognize top performance every day with a set of recognition programs that crowd source ideas and allow anyone to recognize someone who has a great idea or has done exceptional work. Team members can recognize their peers for going above and beyond by sending them points through our online Spotlight program. Accumulated points can be exchanged for gift cards, experiences, and tickets. Enova bolsters the program by providing extra points to "Rockstars" monthly and "Roosters" quarterly.
We also look for opportunities to "show off" our top performers through programs like Enova Buzz (where people in one group share with the business in an open forum the work they do and the results that have been achieved), Tech Talks (informal gatherings where tech teams share new ideas and past projects), and other speaking opportunities give associates platforms to speak about what they're working on, industry trends, or other topics of interest.
Through our Enovation! program, team members can develop and present their ideas for new features, processes, products, businesses or industries. An Enovation Tank MVP and Enovator of the Year award are announced at the end of each year.
Looking Ahead
As we continue to grow and expand, creating the same opportunities for career growth and recognition that we had when it was just 50 people working in the same room is important to us. We work hard to understand the effectiveness and value of the programs we have in place in developing and retaining Top Talent – making changes and adding new ideas as we see the opportunity. We believe we have to win in the competition for Top Talent and that often the best place to look is the team you already have.