The Lowdown on Enova's "Data Smackdown"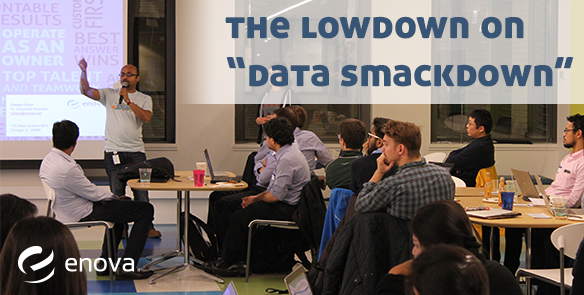 By: Liz King, Content Writer
Recently, Enova hosted their data analytics Meetup, Data Smackdown, drawing a group of 29 excited, like-minded professionals together for a night of knowledge-sharing and friendly, analytics-driven competition.
Participants worked in a collaborative environment, working hands-on with a dataset to solve a real-world problem with the technology of their choice. At the end, models were scored and teams presented their methodologies.
Overall, we had a great turnout and impressive results. We surveyed some of the participants and here's what they had to say.
"It was a wonderful experience, teams were naturally formed on the Enova premise and it was very helpful to understand the thought process and approach of different members on my ad-hoc team. I had a fun night!"
"Technical problems discussed in a friendly environment overall"
"Very solid event. Had a lot of fun. It was great to be able to network with fellow analytics professionals."
Hope you can join us next time!