Open Sourcing Engineering Ladders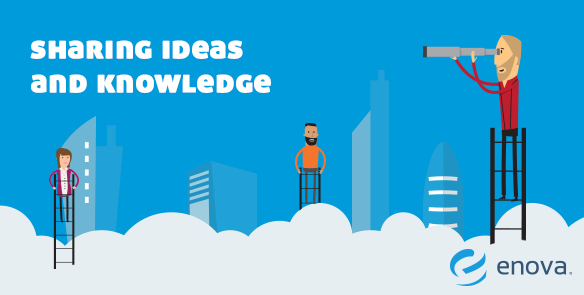 Author: Griffin Caprio, Director of Software Engineering and Lauren Ratcliff, Talent Development Associate
We've previously written about the work that went into creating our new engineering ladders, why we did it and how the resulting rollout went. Since the rollout two months ago, we've had conversations internally about how to take the work we've done and possibly use it to help others. The idea of publishing them the same way several other companies have already done, via a blog post like this, excited us! To us, however, that didn't seem like enough. So Enova has decided to go a step further:
Today we're open sourcing our engineering ladders because we want to share this process with you!
The complete content is available on Github, under the MIT license. The project includes ladders for the following roles:
Software Engineers
Software Test Engineers
Software UI Engineers
Principal & Sr. Principal Engineers – Individual Contributor Track
Managers & Sr. Managers – Management Track
You can find more information, including terminology explanations, within the README.md in the repository.
Why Open Source These Ladders?
Experienced technology leaders know how difficult it is to create ladders from scratch. We hope that the visibility this project provides gives those leaders the necessary building blocks to create and customize their own ladders without having to reinvent the wheel. At a minimum, it will provide another example of how it can be done.
When building these ladders, we had conversations with many other companies about theirs — what they liked and didn't like, and what responses they received internally. We realized that larger engineering organizations weren't that different from each other in terms of how they were structured. There are fewer unique ladder organizations and more consistency than one would assume.
However, this consistency hasn't stopped companies from reinventing the same basic structure over and over again. By opening ours up, we're hoping to increase collaboration and knowledge sharing between companies. The hope is that our actions will prompt others to open source their ladders so that we can all learn and build on them as a community.
What's Next?
We will be updating these ladders as we make changes internally. This could include refinements, fixes or new positions. As we grow as an organization, we want to take you along for the ride!
We'd love any and all feedback on this project. Is it useful for you and your company? Have you found something you agree or disagree with? Did you end up using this in your company? Please let us know on Twitter, by emailing us or by opening up an issue in GitHub. We're always interested in how/if the ladders are being used. You're encouraged to fork the repository and change/modify it for your own needs as you see fit.
OSS At Enova
Opening up these ladders is the next link in a long chain of work that Enova has open sourced. This includes some of our Go work, internal training exercises and more. We will continue to look for other opportunities to publish not only code but also resources such as these.
Contact Us
Email Griffin: gcaprio@enova.com
Email Lauren: lratcliff@enova.com
Reach us on Twitter