Making the Most of March at Enova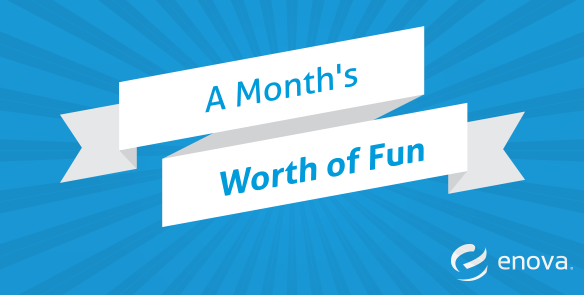 We like to keep busy at Enova. There's always a variety of events and activities for employees to take part in throughout the year. March was a particularly busy month, with a host of fun activities both inside and outside the company. Here's a snapshot of what we've been up to:
Volunteering at Friedman Place
On Friday, March 27, a group of Enova team members volunteered at Friedman Place, a non profit supportive living community for blind and visually impaired adults in Chicago. Our charitable partner, Chicago Cares, organized a half-day at the community, where we cooked lunch, played a music-guessing game, and learned about how the residents interact with a world designed for fully sighted individuals. We really enjoyed our time, and the residents did too. At the end of the morning, everyone at Friedman Place said they hoped we would come back soon.
– Kaitlin Arntz
SOA Night
With Enova's focus on technology, we are always looking for great ways to stay involved in the local tech community. That's why March 26 found us hosting a service-oriented architecture (SOA) hack night at Rose Hulman, led by two Software Engineers from Enova. The students built a series of small apps using IFTTT to tie Twitter, Reddit and Heroku. The night was a big success, and we look forward to hosting more in the future.
– Lizzie Clark
SXSW
South by Southwest is an annual event in Austin, bringing together artists and thinkers within the fields of music, film and interactive technology. Enova's focus was exploring the tech side of the event, and we attended a variety of lectures, including UX and the Heisenberg Uncertainty Principle, Failure as a Creative Catalyst and Using Travel to Harness Creativity and Beat Digital Burnout.
– Monica Sharma
March Madness Happy Hour
A corporate happy hour kicked off March Madness, March 17th at Stout's Tap Room. 100 fans from Enova came out to cheer on their picks and kick back with other team members. Win or lose, drinks were poured, and giant pretzels devoured. Another successful happy hour in the books!
– Addie CaDavid