Introducing: You Decide, Enova Gives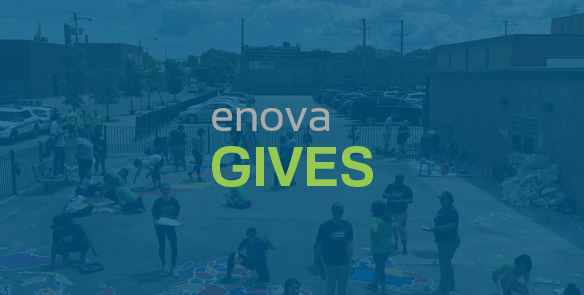 By: Kaitlin Lowey, Sr. Associate, Public Relations and Communication
I know two things for certain about Enova's employees: they take our values to heart — particularly Operate as an Owner — and they love to give back to our community and causes they care about. Since I joined Enova in 2014, countless teams and individuals have reached out to me to ask if they can plan a volunteering event or if Enova can donate to a charitable event. Volunteering events have always been a no-brainer: of course! The more challenging aspect was saying yes to all of the donation requests. Enova makes decisions about its charitable budget before each Fiscal Year starts, and we simply haven't been able to say yes to everything.
But I couldn't stop thinking, there has to be a way for our employees to have a greater say in where our charitable donations are allocated.
That's why this year we are introducing a new program called "You Decide, Enova Gives," open to all full time, benefits-eligible employees. It allows employees to nominate their favorite charity to receive a portion of our $5,000 "You Decide, Enova Gives" award. We will be testing this program during the first half of the year.
In a nutshell, here's how it works:
Donate: Employees donate $25-$250 to the charity they want to nominate and then submit it for matching through our Enova Gives Charitable Match Program. (Enova matches employee charitable donations up to $250 per person per year.)
Nominate: Once their donation match has been approved, Employees then submit a short nomination form to officially nominate their nonprofit for You Decide, Enova Gives.
Vote: After nominations close, all Enova Associates will have the opportunity to vote for which nonprofit they think should receive a donation from Enova.
Celebrate: The winning nonprofits will be announced – first place will receive a $3,000 donation, and second place will receive a $2,000 donation.
I'm excited about this program. As a company, we support organizations like One Million Degrees, A Safe Haven, the Museum of Science and Industry, Big Brothers Big Sisters and more. You Decide, Enova Gives is an addition to this corporate giving that will be determined by our employees – enabling them to truly Operate as Owners when it comes to our charitable giving.
In true Enova spirit, we will be tracking engagement to ensure the program is interesting to employees and driving results. Stay tuned for an update in July on how the program went and which organizations received our You Decide, Enova Gives awards.