Inside Enova Decisions™ Part 2, Featuring Vinod Cheriyan and Mark Rozpadek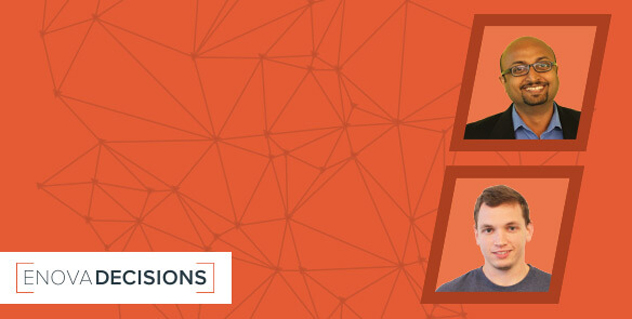 By: Anne Perkins, Marketing Lead for Enova Decisions
Welcome to Part 2 of our Enova Decisions feature this month! If you missed Part 1, you can catch up here.
This week we dive deeper into Enova Decisions, our analytics-as-a-service brand, with Vinod Cheriyan, Senior Data Scientist, and Mark Rozpadek, Data Scientist, for Enova. They discuss the technical aspects of Enova Decisions, giving a glimpse into the work that went into building the Colossus™ real-time decisioning platform and touch on new client integration.
 What kind of work do Data Scientists cover for Enova Decisions?
The main goal for data scientists is to alleviate the technical burden for developers and analysts. Part of that includes taking tasks that the analytics team can own off the developers' table — this helps free up the development team to concentrate on other projects.
"We help our analysts do their job as efficiently as they can without having to deal with roadblocks or jumping through hoops," says Mark Rozpadek.
"As data scientists, we create automated testing and implementation tools that speed up business and developer processes." Rozpadek explains how his team does so: "We start by implementing models into Colossus, by translating the models already built by developers. By doing so we automate the models, so decisions can be made in sub seconds."
Another thing the Enova Decisions' data science team is currently working on is a centralized system to calculate and store model variables. The benefit of such a storage system is that it will allow analytics as a whole "to define variables in order to prevent mistakes and save developers time," according to Rozpadek.
The team also does research when looking to implement new tools and methodologies.
"For example," Vinod Cheriyan says, "we are working on a project where it's the first time we've used online optimization and a learning algorithm. We also just implemented another project that provides a simulation framework for running other models."
"At the end of the day, what our team does, similar to what Mark talked about, is to investigate tools and technologies and develop our own tools and processing, so that the workflow for analytics is improved," Cheriyan explains.
What is Colossus and what went into building it?
Colossus is a sophisticated model-running engine.
"We have our analytics team and developers developing models — they can use whichever tools they like, such as SAS®, R or Python™ — and when they are ready for the model to go into production we translate them to the Colossus platform," Cheriyan states.
Because clients of Enova Decisions are typically online businesses, they require sub second response time in order to provide an exceptional customer experience while the customer is interacting with the company on its website.
To give an example, Cheriyan says, "When the customer enters data on the phone and hits submit, within four or five seconds five or six models run before we can get back to him with a decision. People are not going to wait past 30 seconds or even 10. It's important that models are run very quickly and reliably; otherwise you're losing customers. That's why we built Colossus."
Colossus is designed as a core engine or framework with "plug and play" modules. The Colossus framework makes it simple to quickly switch out and redeploy modules — it's what allows Enova Decisions to be very responsive to market changes where the business needs to move quickly.
Rozpadek chimes in, saying, "The key to building the Colossus platform was making sure all the pieces we wanted were there. One piece that the system needed was visibility. Our previous technical platform was like a black box: You threw something in, magic happened and you got an answer out of it. But you couldn't really see what was going on inside the platform while it was running."
Another goal when building Colossus was developing quicker response times and more flexibility.
"We wanted it to be able to run different languages but also allow for models built in SAS®, R, Python or other analytics platforms or environments so that team members could work in the language they're most comfortable," says Rozpadek. "We wanted to make sure Colossus could handle almost any kind of situation."
 Enova Decisions is currently onboarding its first international client. How has the process been so far?
"So far it's been really positive," enthuses Cheriyan. "One of the good things about the platform we have for Enova Decisions is that it is robust and well designed. We have the pieces in place to handle the use cases, and the team is working on customizing the platform."
"The technical part is in place," Cheriyan says with a smile. "The challenge is making sure we uncover all of the client's requirements — what is it that they really need versus what they're asking for. We are being as thorough as possible as we work through all aspects and use cases."
"Overall, we're in a good place and are looking forward to supporting the first client in China for Enova Decisions."
Visit the Enova Decisions site to learn more.