Enova Interns Give Back to the Community with Chicago Cares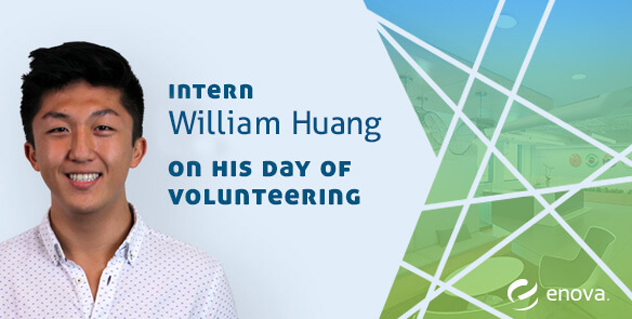 By: William Huang, Intern 
Ask me what my favorite intern event was this summer, and I would respond with the volunteering event at Jesse Sherwood Elementary. Like all of the other intern events, I had a great time bonding with fellow interns from Enova. However, the act of doing so while improving a school and giving back to the city of Chicago places this event at the top of my list.
The Volunteering Event
Shortly after arriving at Jesse Sherwood Elementary, the volunteers broke up into smaller groups and picked a task to do. These included building an outdoor garden, assembling picnic tables, building bookshelves and painting a hallway mural. Chicago Cares, a community service organization that provided us with all of the necessary building materials to get started, organized this volunteer event. My task was helping with the construction of the picnic tables.
Third Time's the Charm
The task was to build two picnic tables, and there were six people assigned to the task. We split the group in half and began to build both tables at the same time. Naturally, this led to a friendly Enova intern battle to see which group could complete their table first.
Long story short, my team lost. The first thing that goes into building a picnic table is assembling its legs. Not long after my team put together the legs did we realize it was upside down. Strike one. We then faced relatively low resistance until we finished the table. Here's where strike two comes in: We turned the table over on its legs, I sat down and experienced flashbacks to when I used to play on seesaws as a kid. My team had to drill new holes (in a pre-drilled picnic table) set until we finally ended up with a nice and balanced table. Third time's a charm.
Impressions
When I arrived at the school, I noticed a difference between what I had experienced in elementary school. The outdoor play area of the school only consisted of a small playground set on the blacktop behind the school. I am extremely glad that I had the chance, along with some amazing people at Enova, to help make the school a more positive setting and a more engaging learning environment by providing the students with new furniture and a new garden.
I strongly support the Enova Gives program and think that it is a great way for employees to not only get to know each other better, but also a great way for them to get to know Chicago and its communities better.