Getting to Know: Tech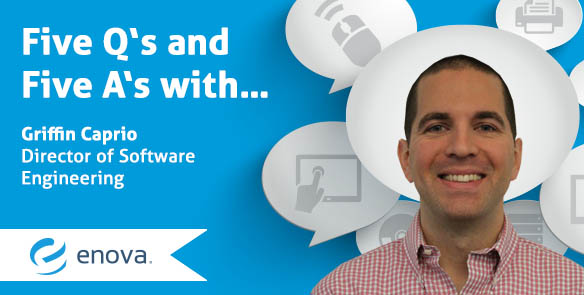 By: Griffin Caprio
How did you come to work at Enova?
After exiting my last company, the current Director of IT, Jeff Bagnall, told me about the position with Enova. I wasn't sure I was the right fit, but he sold me on at least interviewing. After speaking with the Enova leadership over a 4-week interview period, they made me an offer. After weighing it against other opportunities, I decided to come on board and it was clearly the right choice.
 What do you do at Enova?
I'm the Director of Software Engineering. I oversee our entire engineering team, which includes DB, Dev, QA, UI and UX engineers. We build all of the products that our customers use as well as several internal applications that Enova associates use day to day.
What's the best part of working at Enova?
The people are great. Very smart and hard working with an empathy streak that's tough to match in most technology companies.
 If you could live anywhere in the world, where would it be? 
Easily, Buenos Aires. It has great weather, incredible food and the nicest people you can imagine. It's the right combination of a very busy city as well as expansive outdoor scenery. Plus, Patagonia is a short plane ride south!
What are your top three desert island must-haves?
Can I say my wife and family? That would be my number one. After that I'd say a lot of wine and a copy of Godel, Escher and Bach.