Getting to Know: Marketing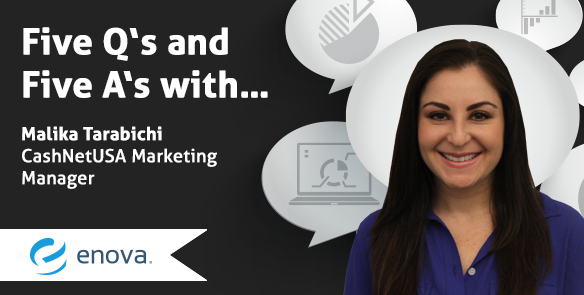 By: Malika Tarabichi, CashNetUSA Marketing Manager 
How did you come to work at Enova?
In pursuing new marketing career opportunities this past summer, I focused my search on global companies driven by leadership, innovation, strategic thinking, marketing and talent. A former colleague and friend read about Enova on Built in Chicago and recommended the company. Not knowing if there would be any marketing openings, I went to the Enova website to research and to my surprise there was one. I applied for the role and was contacted a couple weeks later to begin the interview process. The rest is history!
What do you do at Enova?
I am a Marketing Manager for CashNetUSA responsible for brand and traditional acquisition strategies to grow the business. I integrate brand strategy throughout all marketing channels and translate marketing strategies into projects and plans. I work with the CNU marketing team to develop, implement and analyze tracking mechanisms to determine effectiveness and ROI of marketing campaigns. As part of my role, I work cross-functionally with internal teams and stakeholders to develop strategic roadmaps, manage and execute programs and integrate product and marketing strategy.
What's the best part of working at Enova?
The best part of working at Enova is the people. You are surrounded by very smart individuals who not only challenge you, but are willing to help. Enova has amazing talent and the investment the company makes in talent development is exceptional.
If you could live anywhere in the world, where would it be?
I would pick Italy. I lived in Rome for 4 years growing up and try to visit every couple of years to stay connected while enjoying la dolce vita!
What are your top three desert island must-haves?
Top three desert island must-haves would be sunscreen, water and music!