Five Q and A's with Lynley Tucker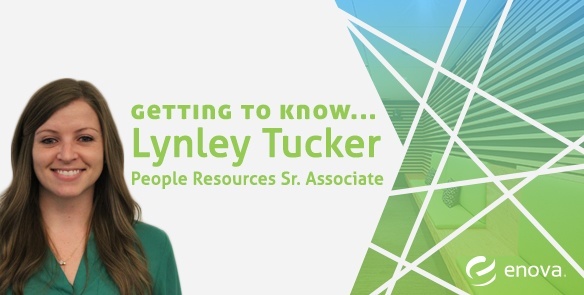 By: Lynley Tucker, People Resources Sr. Associate
This month we're taking a look at our People Resources department through the eyes of Lynley Tucker, People Resources Sr. Associate. A department focused on fostering Enova's "work hard/play hard" culture, the team sees each day as new opportunity to support the hard-working talent at Enova and make our vision a reality.
 Want to be a part of the fun? Visit our career page to view our current openings.  
How did you come to work at Enova?
I was living in San Francisco on my second rotation of the HRLDP program for my last employer and was far away from family and friends. I wanted to move closer to home (southern Illinois) and my boyfriend at the time (now husband) was living in Chicago when the Enova opportunity came my way. I was lucky enough to get the team to fly me in from SF to interview and was very impressed and excited with everything Enova had to offer for my career growth and the culture. I accepted the offer, loaded up my car and drove to Chicago.
What do you do at Enova?
I am a Senior People Resources Associate, which means I do many different things! The main part of my role is to be a partner and resource for the teams I support and their people to help them reach their business goals. Just a few things I do: Provide coaching/feedback, review market data and compensation, assist with retention and engagement initiatives, evaluate risk, identify opportunities for training and so much more. In addition to those responsibilities, this year part of my role will be focused on compensation so I'll be working on things related to LTI, STI, the year-end compensation process, reviewing market data, etc.
What's the best part of working at Enova?
The people! I get to work with very smart, fun and engaging individuals across the company who I get to learn from every day.
If you could live anywhere in the world, where would it be?
Costa Rica
What are your top three desert island must-haves?
Netflix (internet access required), endless ice tea and sunscreen