Finding the Best Answer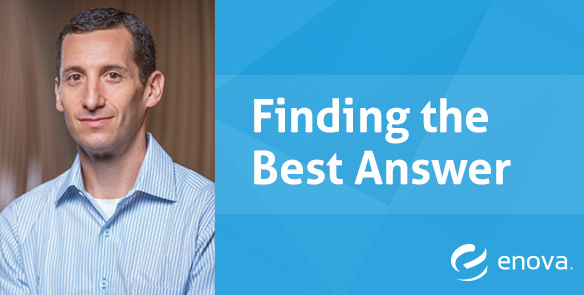 By: David Fisher, CEO
At their core, successful technology companies are leaders. They innovate at the speed of information, setting new standards for their industries to meet and exceed. Enova was built on the mission to expand access to credit, and we are constantly challenging assumptions, evaluating groundbreaking ideas and testing new models in an effort to continually improve our products and services.
But no company lives on an island. Part of being a leading company is sharing our own knowledge and experiences to push the industry forward while also considering how others' ideas can be applied to our business. For Enova, this is especially important for our analytics function. As a company, every day we are advancing the science of analytics for better decision-making. Conferences and speaking opportunities give our talented team members a place to share their innovative work while learning from other analytics leaders. For instance, this fall Enova's Chief Analytics Officer, Joe DeCosmo, and Head of Fraud Analytics, Ken Park, presented at Fraud Force Summit 2015 where they discussed how we're combining operations and analytics to catch fraud.
Joe was also selected to speak at the NYU Stern Big Data Conference 2015 in October, where he presented on how Collosus, our proprietary analytics decision engine had an estimated $7MM impact on EBITDA in 2014 due to model improvements. As recognition for Enova's groundbreaking work in Analytics decision-making for business growth, the International Institute for Analytics named Enova a finalist for IIA's Excellence in Analytics Award, alongside Dignity Health and Dow Chemical.
Sometimes, innovation can also come from new team members. Last month we welcomed a new Chief Operating Officer, Greg Zeeman, who joined us from global financial company HSBC. Greg spent many years in various roles at HSBC, including serving as the COO of HSBC USA. He brings a fresh set of eyes as well as insights from a large company that we can apply to our own operations as we enter new markets and introduce new, innovative products.
I look forward to keeping you updated on how we're leveraging the latest ideas from inside and outside of our company to innovate and create lasting benefits for our customers and our business. Be sure to follow us on Twitter, Facebook and LinkedIn to hear about our latest contributions to our industry and community.