Enovation = Best Answer Wins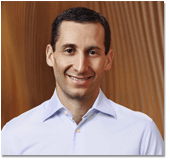 By: David Fisher, CEO
November 27, 2013
If there's one unique aspect of Enova's culture I've seen make the biggest impact in my last 9 months with the company, it's our ability to rapidly innovate. We are constantly finding new ways to better serve our customers – whether through new products, improvements to existing products, or better service. And our core values of "Best Answer Wins" and "Top Talent and Teamwork" mean that great ideas from all levels in the organization can be brought to life quickly and flawlessly.
That's why we launched a new program this month called "Enovation!".  This collection of quarterly and annual programs not only celebrates our heritage of innovation, but it also allows us to develop and recognize our best ideas and best innovators throughout the company.
True to our "Best Answer Wins" value, the Enovation Tank encourages employees from across the company – regardless of level or function – to submit ideas for new features, processes, products, businesses or industries. From there, a group of the top four to six ideators will spend three months developing their best idea to present it to leadership for approval and implementation.
Similarly, Enovation Labs challenges our Tech (Dev and IT) associates to develop a new project in just 24 hours, after which the best projects will be put into action.
At the end of each year, an Enovator of the Year and an Enovation Tank MVP will be recognized throughout the organization.
Even as Enova's global growth has continued, we still operate with the same energy, nimbleness and focus on innovation that propelled us when we began as a Chicago startup in 2004. Every day, our people challenge assumptions and bring unique solutions to the table. I'm excited to see how Enovation! will further enable our incredibly smart and motivated people to generate big ideas that have even bigger benefits for our customers.