Enova Finds Big Success with College Tech Events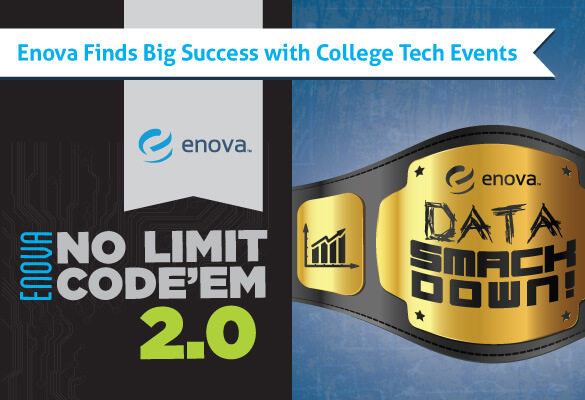 November 21, 2013
Between October 11and 24, Enova hosted a trio of events at local universities, bringing together the tech minds of the future to compete for prizes.
The October events got underway with the Data Smackdown, a data analysis competition held at University of Chicago. From 6:00 p.m. to midnight on October 11, 18 teams made up of 49 participants total competed in data set analysis with the help of Enova volunteers. Placing first, second and third, respectively, were Team Logreg, Team Kiki and Team FanJia.
October 17 found Enova at the University of Illinois, hosting the school's 3rd annual No Limit Code 'Em. This is an event geared towards future computing engineers, and brought in over 100 competitors, working on their own or in pairs. Placing first was Robert Limiesz, with the team of Gong Chen and Xiang Ren taking second, and Erik Luo and Yuan Hao in third.
Purdue University was the site for our other No Limit Code 'Em, hosting the event on October 24 for the second time in as many years. With 45 individuals in attendance, the No Limit Code 'Em was a big success, and saw Tingiun Li and Jerry Ma take first place. Kurt Kroeger and Eric Templin landed in second, and Grant Gumina and Luke Walsh took third.
Congrats to all of our competitors, and we hope to see you next year!