Enova's Very Own Batman Gives Hope to Sick Children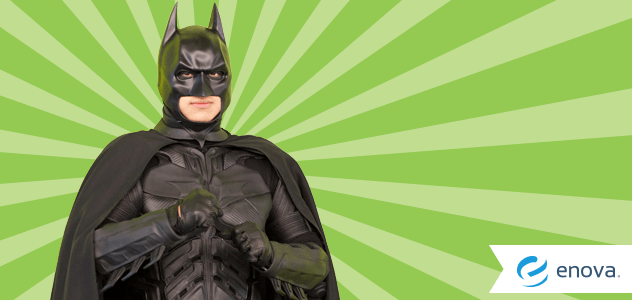 By: Kaitlin Lowey, Communication Sr. Associate
As part of its charitable efforts, today Enova is spotlighting team member Andy Tan and his nonprofit organization, Superheroes Visit.
Tell me about your nonprofit:
Through Superheroes Visit, I dress up as Batman and visit sick kids in the hospital to give them hope and encouragement. I have already visited Ann & Robert H. Lurie Children's Hospital in Chicago, Mount Sinai Kravis Children's Hospital in New York City, and Our Lady's Children's Hospital in Ireland.
In a cool turn of events, I — or, rather, Batman — was actually featured on the local news! Here are the features:
http://wgntv.com/2017/06/27/lurie-celebrates-superhero-week/
http://abc7chicago.com/health/superhero-week-invades-lurie-childrens-hospital-/2155641/
http://www.nbcchicago.com/blogs/making-a-difference/batman-lurie-childrens-hospital-431181323.html
http://chicago.suntimes.com/news/superhero-week-at-lurie-childrens-hospital-its-a-dream-come-true/
Why did you start Superheroes Visit?
I had a colleague at Enova, Kevin Braden(1983-2016), with whom I worked closely from 2013 to 2015. Apart from being a great manager, he was a great mentor to me, both professionally and personally — a cool guy, indeed.
However, after a long and determined battle with cancer, he passed away peacefully on Jan 21, 2016, surrounded by family and friends.
I was crushed to learn of his passing. As I was in China during a business trip, I could not attend his memorial service and burial. More than a year has since passed but I never really got the closure I thought would come with the passage of time. Maybe I was just being too naive, maybe I just not as strong as I thought I would be…whatever the reason, the grief still lingers.
After some self reflection, I decided to convert this lost feeling into something positive and impactful by leveraging the ideation of superheroes and hope.
And so, Superheroes Visit was born.
How do the kids react when they see Batman?
The kids are really excited to see Batman and spend time with him. It definitely boosts their morale. Kids say the darndest things – some actually told me they actually prefer Superman over Batman.
What do you tell the kids to give them hope?
I teach them that just as Batman has no real superpowers, with strength and hope, they can stand up to anything in life. I also let them know that Batman's secretly admires them because they are the real superheroes.
What is the future of Superheroes Visit?
I plan to have Batman visit hospitals on an ongoing basis — not just in the States but internationally as well (during vacations, etc.).
Enova has also been instrumental in helping Superheroes Visit get off the ground, particularly the following initiatives:
1 PTO day off for volunteering (bonus/extra PTO)

I utilized my paid PTO day to visit hospitals on a Tuesday morning and Thursday afternoon in July.

Friday Summer Hours

I also used our Summer Hours program to visit a hospital on a Friday afternoon. The Summer Hours program also made it possible for my colleague, Jeff Lundt, to tag along and take photos without taking time off.

"Enova Gives" Charitable Match Program

Enova matches charitable donations to qualifying 501(c)3 organizations like Superheroes Visit!
How can others get involved?
You can check out www.superheroesvisit.org to learn of ways to get involved!

Photos by Jeff Lundt