Enova Values Series: Showing Top Talent & Teamwork Every Day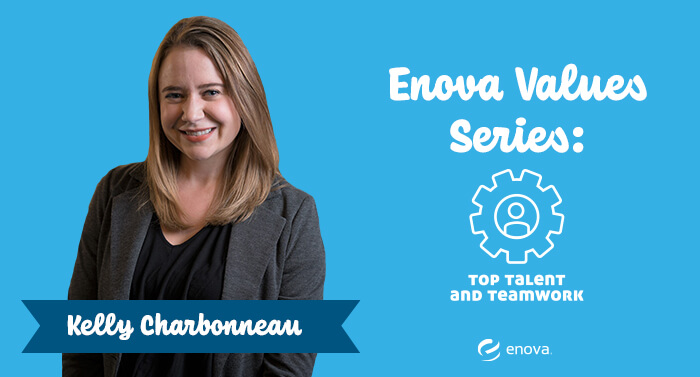 By Kelly Charbonneau
At Enova's new hire orientation, we introduce our five core values, explain what they mean to our culture, and show how they drive the way we work. When I facilitate orientation, I always call out that my favorite value is Top Talent & Teamwork. To me, Top Talent & Teamwork means that we attract and retain the best, we respect and utilize the expertise that our top talent possesses, and we put the team first. 
It also means that our purpose as the Talent Development team and People team is valued and integral to Enova's success; this isn't something that's always recognized at other organizations. This is why I was excited to learn I was selected for the Enova Values Award for Top Talent & Teamwork. 
My role requires a lot of collaboration, and being at a place where it's highly valued makes a noticeable difference in my work. One of the ways this value was important to my work in 2019 was in the Year-End Performance Process. As the lead on this project, part of my role is to ensure the project team is working together effectively and collaborating with the right people. This is a project that requires expertise and work across the People team, along with leaning on other teams such as Communications, Finance and Legal. Working with teams across the organization is always easy and a pleasure when you work with talented team members. Enova has some of the smartest, most dedicated people I've ever worked with. Without respecting and utilizing the knowledge across each of these teams, everyone in the organization wouldn't get their reviews or be compensated for their performance.
Beyond my own work, I see our teams live out this value every day. For instance, contact center associates in our Partners in Learning program demonstrate Top Talent & Teamwork by coaching new hires to learn their products and processes while also helping them integrate into their new teams. Our Recruiting team works closely with hiring leaders to identify what Top Talent means for their open roles and uses methods like our internship program to find and retain talent that aligns with those standards. Top Talent & Teamwork is also represented in one of our People Team principles, Team before Self, which reminds us to look for ways to support each other. 
I'm proud to work at an organization that values attracting and retaining top talent and knows effective teamwork is essential to success.