Enova Unites with Chicago Cares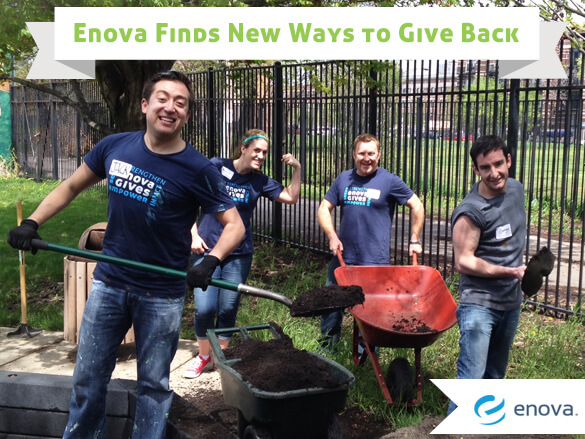 By: Mike Gilhooly, Public Affairs Manager
May 5th, 2014
The Enova Gives program has resulted in partnerships with a host of generous nonprofit organizations, including Big Brothers Big Sisters, A Safe Haven and the Children's Research Fund, to name a few. Now, we can add one more group to that list — Chicago Cares.
Committed to building a better community through volunteerism, Chicago Cares creates opportunities throughout the city for individuals and teams looking to give something back. Since 1991, Chicago Cares has organized over 34,000 volunteers per year to provide assistance to nonprofits and schools all around Chicago.
Enova's partnership with Chicago Cares officially began on May 9, with a collection of Enova employees taking part in a half day of volunteering at the Chicago Youth Center. "I had a blast serving with other Enova peeps," says Nancy Wai, U.S. Marketing Senior Associate. "We made a bunch of fleece blankets for nap time, repainted the gym a nice spring blue, and built two garden beds full of veggies, herbs and flowers. Not bad for a day's work outside the office. Looking forward to more opportunities!"
Apart from the monthly volunteer opportunities that Enova employees can take part in, Enova will also be supporting the Serve-a-thon, an annual day of service held each year by Chicago Cares. This year's Serve-a-thon will take place on June 7, with over 5,000 volunteers working to improve their city.