Enova U: The Summer is 'Speeding' By!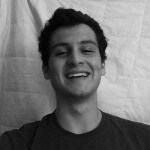 By: Thomas Deegan, Software Engineer Intern
July 3, 2013
One of the great things about interning at Enova is the activities and team bonding experiences we go through.  These fun events allow us to get to know the other interns and our respective 'buddies'.  These buddies are seasoned developers who have been assigned to each of us as someone we can go to if we have questions about life at Enova or more specific technical questions.
A few Wednesdays ago, we had go-carting.  Despite it being a busy week, we all left work early and loaded into the party bus that was scheduled to take us there.  The ride through rush hour traffic took a long but in the end it was worth it.  After sitting through a somewhat comical instruction video we geared up waited to join in the next race.
During our first race I was unlucky enough to be given a car with no brakes and ended up having to end the race by waiting to slow down enough that I could smash into something safely to stop.  The next few races were a lot better; I found the speed and control that the go-carts had exhilarating if not a little frightening at first.  Joe, our senior manager turned out to be somewhat an expert and swept every single round despite his intense rivalry with another developer Pete.
After being dropped off at the office after the race we went to a pub for dinner with the team and then headed home. Enova sets employee cohesion and happiness as such a high importance, that's what make working here such a blast!