Enova Runs the Corporate Challenge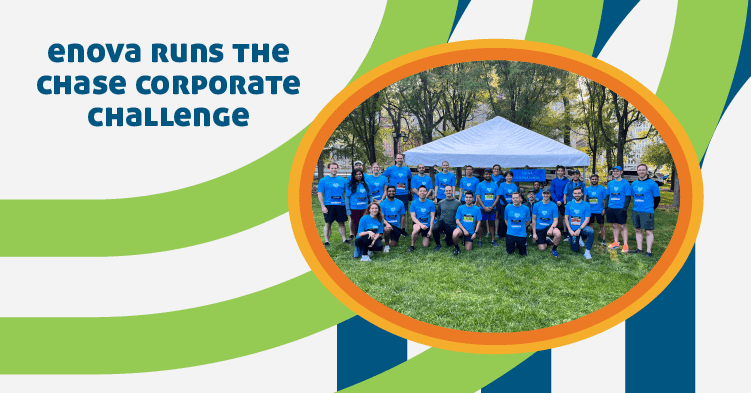 By: Prerit Mahajan, Technology Team Lead
I started at Enova in early January of 2023. As a newbie at Enova, I was eager to meet people throughout the company and immerse myself in the culture. Having participated in the J.P. Morgan Corporate Challenge in the past, I knew how much fun it could be. The event allows participants to network with over 10,000 professionals from over 400 companies around the Chicagoland area while strengthening connections with their own colleagues. I thought this would be the perfect opportunity for me to get to know people at Enova better. It certainly was! Through spreading interest, recruiting folks to participate, getting ready at the office, walking over to the park, warming up and actually running in the race, I interacted with many folks across multiple different departments at Enova. Whether we were running, walking, jogging or all-out sprinting the race, we all gathered under Enova's tent as a single team!
As the 31 of us made our way over to the starting corrals and anxiously awaited the start of the race, we spoke about our target finish times and joked about how much we'd eat and drink after. Once we took off, the exhilaration given of the race carried us through the three and one- half miles. Wendy Zhu made it her mission to photograph each and every one of us running or walking. Team Enova's first runner to cross the finish line was Zach Dale with a blistering time of 18:34! Jonathan Foster and Jay Kopper were not far behind as they both finished in under 20 minutes.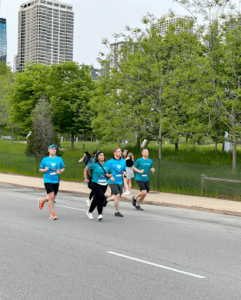 While speaking with my fellow Team Enova runners and walkers, I heard similar testimony from several people: the race gave them another goal to train toward. For some team members this was a stepping stone toward their next race. I would encourage people to participate in future years as the race provides the opportunity to get to know team members they may not get to interact with very often and participate in a healthy activity at the same time.
I consider myself lucky that Enova gave us the chance to create a team for this event and connect with others through our shared passion. This opportunity is a testament to Enova's commitment to its Values-focused culture. I was able to Operate as an Owner by creating a team that brought Top Talent from across the organization together to participate in the event.